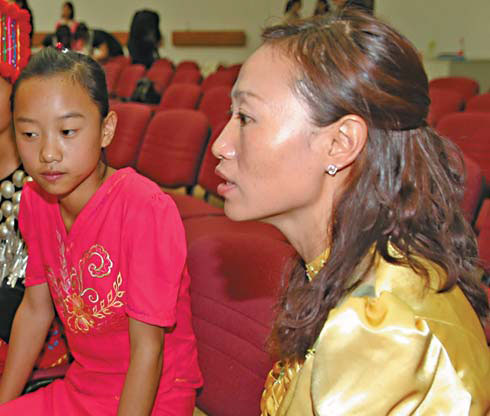 Ban Xiaolian, a "barefoot" social worker, talks to reporters on the sidelines of a recent children welfare conference in Beijing. Provided to China Daily
Editor's note: Ban Xiaolian is a member of a small army of "barefoot social workers." Although in an informal role, Ban, in her 30s, has been tasked with providing a welfare net to children left behind by their parents in the vast and underdeveloped Chinese countryside.
I am from Jinghan village in the Longhan county of Yunnan province. In August 2010, Jingshan was selected for a pilot program run by the Ministry of Civil Affairs and UNICEF. I've been a child welfare director since then.
Our village has 1,300 children, among whom about 180 children have special needs. Many are left-behind children, others are orphans, some are infected with HIV or have disabled parents who struggle to raise them.
I used to label people as bad if they did drugs or had HIV/AIDS, and I never thought about the problems their children might face.
Once I met a little girl called Cun Xiangliu whose mother had HIV/AIDS. Her parents had divorced and both left home. Their two children were left with a sick grandfather.
HIV/AIDS is a stigma here. Other villagers, including their relatives stayed away from them.
Cun's family has 0.27 hectares of land, but there wasn't anybody strong enough to plough and sow.
After my first visit to Cun's house, she called and told me that her younger brother wanted to go to kindergarten, but the family didn't have money to pay the fee.
I went to the local civil affairs bureau and applied for basic allowance for the family. I contacted the kindergarten and the young boy was soon enrolled.
Helping children go through life's difficulties also helped me in readjusting my values.
I began to gather such children at the children's center I ran. Cun gradually made friends there and no longer feels abandoned.
Ban spoke to China Daily reporter Yang Yao.