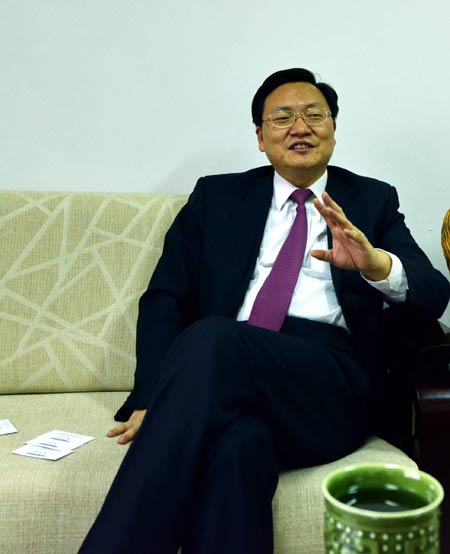 Zaozhuang Party chief Chen Wei has made special efforts to realize Tai'erzhuang's reconstruction. [Photo/China Daily]
The screen overlooking New York's Times Square - the "crossroads of the world" - today shows a dreamlike Chinese landscape.
The video shows the vicissitudes of Tai'erzhuang, a town in Zaozhuang, Shandong province, nurtured by the Grand Canal, ruined during the War of Resistance against Japanese Aggression (1937-45) and later rebuilt.
Zaozhuang's Party chief Chen Wei says two of the phrases shown on the screen resonate with him: "Destroyed but never lost" and "Feel the Chinese dream".
The town's reconstruction was part of Zaozhuang's initiative to boost the city's service industry.
It has had a profound impact on the city's 4million residents, as the community's coal stocks are becoming depleted. Zaozhuang's namesake comes from a mine and the city thrived when it was among the country's top three coal sources in the 1930s. The Party chief says the city had few prospects with the coal running out.
"We successfully changed our economic structure by developing the cultural resources the Grand Canal endows," Chen says.
He likens the post-war reconstruction to Warsaw's.
Chen, a native of Zhejiang province's Jinhua, became Shandong province's youngest mayor when he took the post in Zaozhuang in 2006 at age 40.
He has since tackled the challenge of rejuvenating the historical town. "Zaozhuang has no famous mountains and no coast. What it has is the Grand Canal and a destroyed ancient town," Chen says.
Chen says he arrived in Tai'erzhuang to discover a shabby place with no public toilets, and street lamps and ancient docks covered with trash. It was slated to be redeveloped by a real estate company.