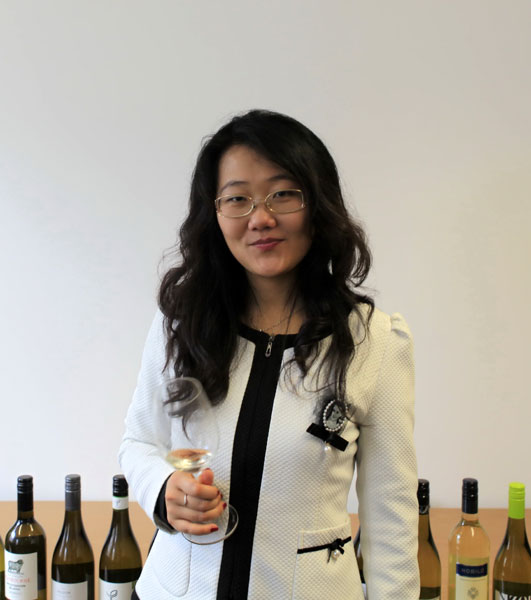 Li Yan enjoys being a wine taster.Photo provided to China Daily
Li Yan is fascinated by the world of wine.
Her fascination began in 2004, when she watched the film Sideways, a comedy about aging and wine.
"The film described wine as constantly evolving, getting more mature, gaining complexity, getting to its peak and then declining, and one day there is death. I just thought there is so much philosophical truth behind this cycle," Li, 34, says.
Li's love of the film soon evolved into an interest, and then a career, in wine. Besides working as a sales representative for the Italian wine producer Casa Vinicola Zonin, she is also a wine taster for the app Wotwine, which offers consumers independent opinions on supermarket wine prices.
At a typical two-hour tasting session at Wotwine's central London office, Li can taste more than 70 wines together with the Wotwine team. Together the group determines a Wotwine price for the wine. The tasting list each week is different, to make sure new offerings in different UK supermarkets are covered.
With a glass in hand, Li walks casually around the room in contemplation after tasting each wine, describing each using her professional vocabulary: "fruity", "balanced", "concentrated".
Like all wine connoisseurs, Li likes top-quality wine, but she says tasting supermarket wines is also fun and an important learning experience. "I'm just lucky to be able to taste and talk about wine with such experienced people at Wotwine," she says.
Li, however, had a bumpy career before entering the wine world.
A native of Nanchang city, Jiangxi province, Li came to the UK in 2000 to study for an undergraduate degree in computer science at the University of Manchester, followed by a master's degree in image processing at Kingston University.
She then switched between several jobs in the IT consulting world, working on a range of tasks, from computerizing company systems to developing new software for clients.
After gaining some industry experience, Li decided to return to Kingston University and teach students how to write software, but after six months she decided IT was not her cup of tea.
"I asked myself, what am I doing? Will I spend the rest of my life like this?" Li recalls. She says she initially decided to study computer science because she liked the challenge it provided, but she later realized that she did not have a passion for it.
In 2009, Li met someone who worked at Casa Vinicola Zonin, who invited her to try out for the job of sales representative for the Italian wine producer.