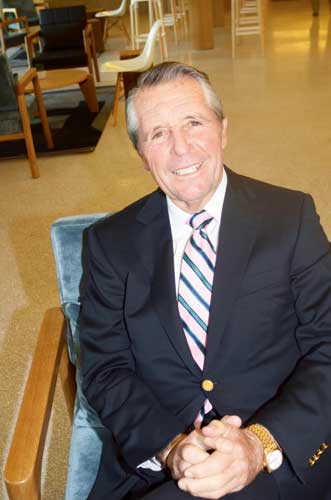 Gary Player, 78, is renowned as a fitness buff who goes to the gym daily. Provided to China Daily
The golfer Gary Player, who has designed eight golf courses in China with another five in the pipeline, says it is only a matter of time before the country produces a world-dominating player of its own.
Player, who recently turned 78, is a regular visitor to the country to inspect courses that carry his name and to host the annual Gary Player invitational tournament, which is held in Shanghai and raises money for AIDS orphans. Each time he comes, says Player, he is awed by the pace and scale of progress.
"The change has come basically overnight, whether it is economics or sport," he says. "With the history of China, I am sure it will in time produce great golfers - just look at the success they have had in the Olympics."
Player's most high-profile China project is at Yanxi Lake, outside Beijing, part of the showcase complex where the Asia-Pacific Economic Cooperation forum will be held in October. That is a Gary Player Signature Course, which means the man himself has been involved intimately with all aspects of the design - and has personally inspected the course a number of times to ensure it met his standards.
"He is very concerned about the evolution of golf and making it more accessible for less-wealthy people," says Beijing-based Justin Downes, whose company, Axis Leisure Management, represents the golfer's business interests in the country.
Player, who has six children and 22 grandchildren, is known for being an avid fitness buff, who began taking exercise and diet seriously long before it became fashionable; in years gone by, fellow golfers on the international circuit thought him to be slightly eccentric by insisting on seeking out a gym to perform his daily regimen. Even now, the day starts with a thousand push-ups, with a round of golf later if time permits. He follows a mostly vegetarian diet and drinks alcohol only very occasionally, and sparingly.
Home is the United States, in a Florida golf enclave, and a giant estate in South Africa with its own private game reserve. But for much of the year Player travels around the world by private jet, a nonstop schedule that has earned him the title of the world's most-traveled athlete. He is said to have clocked up about 25 million kilometers during 40 years of competition in which he had 165 tournament victories.
Most keen globetrotting amateur golfers would have hauled their clubs around at least one of the 300-plus Player courses scattered around the world. One of the most spectacular is the Kau Sai Chau public course in Hong Kong, located on an outlying island, where golfers get to the course by ferry and play with a dramatic background of ocean and mountains.
Another China course garnering praise from golf aficionados is Jinji Lake, in Suzhou, a 27-hole development that has won numerous awards and hosted several large tournaments.
Player has been showered with accolades over his career, but one that gave him particular pride was a lavish endorsement by the late Nelson Mandela, who had followed the sportsman's career during his near 30 years in prison.
Writing later in Golf Digest magazine, the South African president pointed out that Player had sometimes been unfairly associated with the apartheid regime; in reality, he had lobbied for black athletes, such as tennis player Arthur Ashe and golfer Lee Elder, to be allowed to compete in South Africa. In addition, Mandela said that he established the Gary Player Foundation, which did a great deal to further education among young black people.
Another of Player's many roles is as de facto tourism ambassador for his country, trying to persuade people to pay a visit. Golfers, of course, are also apprised of the splendid courses in South Africa.
"One of my favorite courses is the Leopard Creek Country Club," Player says.
"It is on the border of the Kruger National Park. You walk out on to the veranda and you see 22 million acres of space with wild animals and not a light, or a person, to be seen."
For China Daily