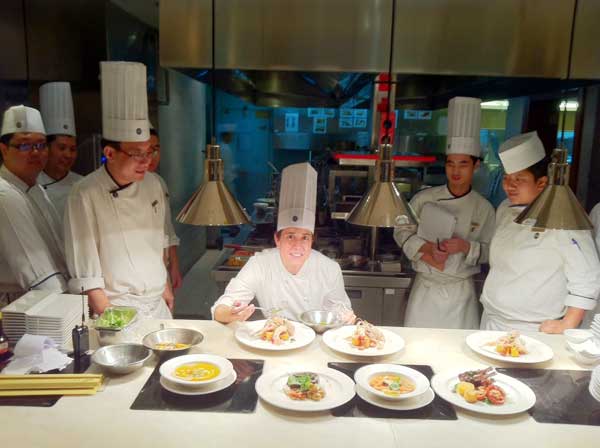 Connie Aldao Worker, the wife of the New Zealand ambassador to China, says the embassy residence hosts more than 2,000 guests each year. Provided to China Daily
Connie Aldao Worker plans to learn as much as she can about Chinese cuisine and to bring those skills back to New Zealand, writes Tracie Barrett.
When New Zealand Ambassador to China Carl Worker hosts events at the New Zealand residence, he always thanks his wife and the embassy cooks prior to inviting his guests to dine. It is not mere politeness or appreciation shown for his wife's organizational skills. As a professional chef and former restaurateur in her native Argentina, Connie Aldao Worker is likely to have spent two to three days before each event working in the kitchen alongside the cooks.
Aldao Worker first became involved in the hospitality trade in Argentina, where, while studying business, she began working for celebrated Argentinean chef Francis Mallmann.
"I started working on the office side, not the kitchen," she says. "I used to organize his cooking shows, TV programs, helped write two of his cooking books - he did lots of traveling representing Argentina overseas, so I had the chance of doing that with him, too."
She says that, while working for Mallmann, she started helping in the kitchen, "just for fun".
"So I started getting involved in the kitchen and then, after two or three years, I was spending more time in the kitchen than in the offices."
In 1998, Aldao Worker was responsible for setting up the 1884 Francis Mallmann Bodegas Escorihuela restaurant in Mendoza, which was ranked seventh of the top 50 restaurants in the world in 2002 by the United Kingdom's Restaurant magazine.
"I was general manager. I set up the restaurant from scratch in charge of the accounts, training the staff, choosing the wines, the menu, seating the guests, giving cooking classes, designing the menu, training the kitchen and I worked also as a chef."
It was at the restaurant she first met her future husband, when the diplomat's Spanish teacher took him there to dine. Their romance didn't blossom until a year later, and they married in 2003. The next three years were spent in Argentina, before moving to New Zealand for three years.