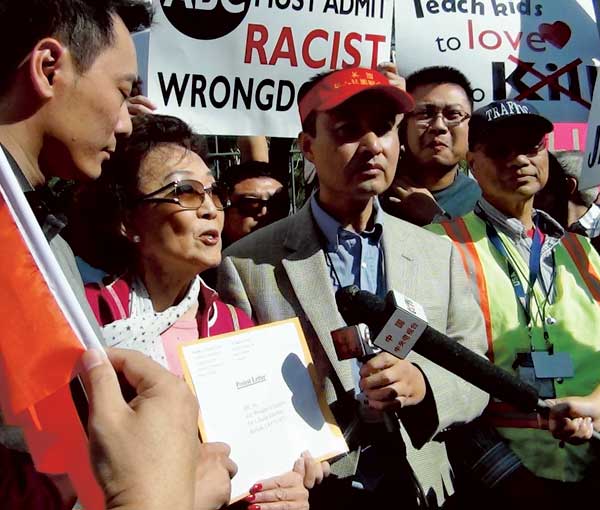 Sue Zhang (second from left) joins a protest with other Chinese community leaders. Wang Jun / China Daily
Sue Zhang usually does not tell others that she's a daughter of Zhang Zhizhong, who was a high-profile general in China and a well-recognized patriot.
Zhang is the youngest of three daughters and also has two brothers. She was expected to be a boy and was raised like a boy, she says.
"Maybe that's why I'm adventurous," she says, "I learned how to swim when I was 3, horse riding at 10. I was a gymnast on my college team. And, in my 50s, I started to learn to ski and fell in love with it!"
Zhang has been leading several Chinese community groups. In 2007, Zhang was elected chairwoman of the Roundtable, working with more than 60 Chinese-American organizations in southern California to bring the United States and China closer.
Zhang has lived in the US for decades and her home in California is not far from Pasadena, which has been the host of the world-famous annual Rose Parade for more than 100 years.
"The first thing that I worked on was to bring a float representing China to the parade," Zhang says. "At the time, Beijing was preparing for the 2008 Olympics. It was especially meaningful to showcase our Olympics dream in the rose parade."
Avery Dennison, a Fortune 500 company whose products include pressure-sensitive adhesive materials and specialty medical products, also wanted a Chinese-themed float because it has branches in China.
Zhang managed to obtain authorization from the Beijing Olympics Committee for the float. Dennison agreed to provide $150,000 and Zhang needed to raise an additional $200,000.
"The economy was good in 2007," Zhang says. "I called up 10 friends and asked each to donate $20,000. All of them did."
With the money, Zhang and her team encountered other problems.