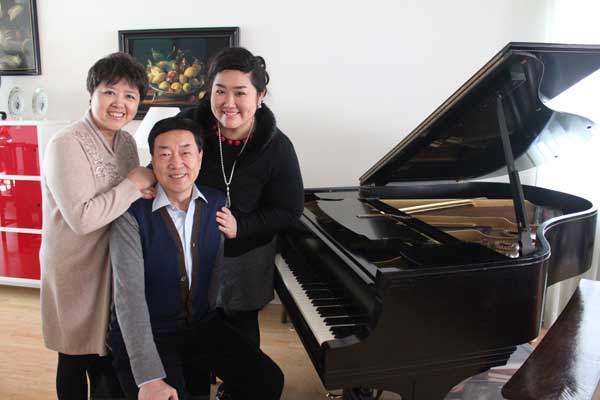 Tian Jiaxin poses for a photo with her mother, Wang Yueying (left) and father Tian Di (center). Tian Jiaxin recently performed at the Lincoln Center. Hu Haidan / China Daily
As if playing for sophisticated, critical New Yorkers weren't tough enough, pianist Tian Jiaxin gave herself an extra challenge when she performed at the Lincoln Center for the Performing Arts.
A highlight of Tian's performance - following up her triumphant Carnegie Hall solo debut last year - was her rendition of Chopin's Sonata No 2 in B-flat Minor, Op 35. Tian says performing this piece has always been difficult for her, because it requires the artist to smoothly present four different emotional personalities - one from each movement.
By evening's end, Tian had left her mark, prompting a standing ovation from the audience.
"I am so excited. I played very well," she says after the concert. Comparing her effort with the February 2013 Carnegie Hall recital, she says, "I had more connection with the audience this time."
She credited Philippe Entremont, a French pianist, conductor and teacher with helping her to rise to the occasion. "He inspired me and taught me how to express my emotion while he traveled to New York last October," Tian recalls.
Tian and her parents sat down with China Daily after the concert to talk about the young pianist's musical journey.
"We (her mother and I) are so proud of her," says Tian's father, Tian Di, a composer and conductor from the General Political Department of the People's Liberation Army. "She worked so hard to reach the level she is at today."
Born into a family of professional musicians in Beijing, Tian began playing piano at age 3. But unlike other Chinese prodigies who embark on a musical path that includes intensive conservatory training, Tian followed a more ordinary path - attending elementary school, middle school and high school.
Tian's father says he and Tian's mother wanted their daughter to receive a comprehensive education at an early age, so she would be able to choose what she wanted to do when she grew up.