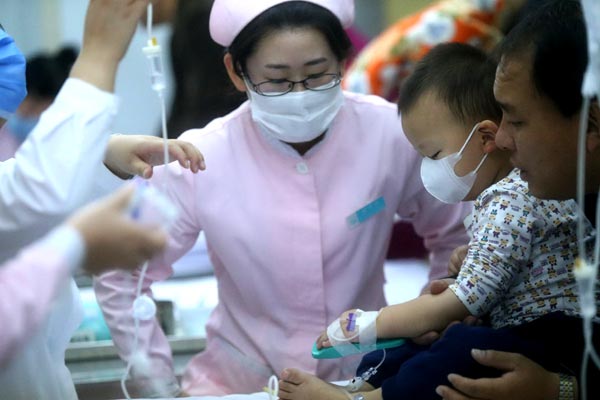 Experts call for more efforts to make guidelines on the use of adult drugs for children. [Photo provided to China Daily]
Bao Huiling, a senior pediatrician with Peking University Third Hospital in Beijing, is occasionally questioned by parents when they read "this drug hasn't been clinically tested for children under 16" in the users' guides of drugs she has prescribed.
She explains that although the drugs have not been tested on children, they are safe if used correctly. Some parents accept her explanation, while others remain skeptical.
"Such things happen from time to time," Bao says.
"The drugs are safe for use by children, but because of the statement on the user guide, if there are any accidents, the doctors are vulnerable to accusations."
That is only one of the many problems faced by pediatricians and children when it comes to taking medication.
According to a report by Beijing Morning Post, of about 4,000 drug makers in China, only 5 percent make child-specific drugs, and 90 percent of medications on the market do not have a child-specific dosage on packages.
Due to the public healthcare system's drug purchase and allocation policies, a general hospital of ten has to purchase a large amount of adult drugs and a very limited selection of child-specific drugs. That forces pediatricians treating children to prescribe adult drugs, which often have no specific usage directions for children, Bao says.
"Without detailed instructions, it is completely reliant on the doctors' experience and expertise to prescribe the drugs," Bao says.
"The doctors are faced with career risks, and the children's safety is threatened, even though the possibility (of something going wrong) is low."
Children are not miniatures of adults. They need medicines tailored to their age, body weight and physiological conditions, so it is always a challenge for a doctor to decide the prescription of different adult drugs and the dosage, Bao says.
While liquid, orally taken medicines are most ideal for children, most of the drugs available for children in a hospital are tablets, capsules and injections, which result in a large amount of waste, according to Jiang Yuwu, director of the pediatrics department at Peking University First Hospital.
That is because, those medications, often designed for adult use, need to be divided for a child to take, and the rest has to be discarded, Jiang says.
The waste of medicine in such cases can be up to 90 percent, Jiang says.
This practice is difficult, because some medicines are difficult to divide.
Jiang believes high investment risk and low profits discourage drug makers from developing and producing child-specific medicines. He says in recent years some drugmakers have stopped making drugs for children.
Bao agrees.
She says the hospital she works for has been calling on drugmakers to form and pack drugs for child use, but few listen.
However, Bao says the health authorities are developing guidelines on the use of adult drugs for children.