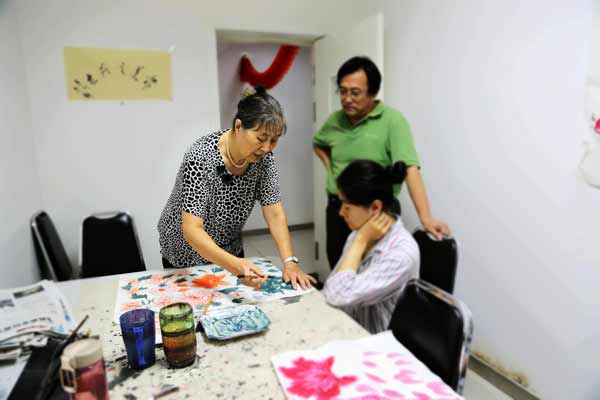 Jia Lixian teaches a patient traditional Chinese painting as part of a rehabilitation therapy at a Beijing hospital for mental disorder sufferers. Wang Jiaquan / for China Daily
A program teaching mental-health patients painting, dance, music and crafts is having remarkable results. Xinhua writers Wang Jiaquan, Lan Xi and Tan Haoxuan report.
Wang Yu seems to be proud of her peony paintings, but there's no hint of pride on her face when she asks her visitors for comments.
She remains expressionless as the visitors wow at a scroll of the large, showy pink blossoms she has painted.
The blossoms were painted more than a year ago, and her new subject of choice is chrysanthemums, which she calls mums, for short.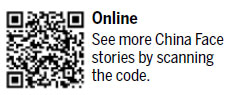 However, Wang continues with the query "Are my peonies beautiful?" but she is staring at a piece of paper covered in sketches of yellow chrysanthemums.
"Yes, they are beautiful, but we have to finish our mums' petals and leaves today. All right?" her teacher Jia Lixian says, hoping to divert her student's attention toward the flowers they are painting.
Wang begins to copy Jia as the teacher shows her how to control the brush strokes.
The 30-something woman is among a group of unusual students of traditional Chinese painting, who are learning the skill as part of a rehabilitation therapy at a Beijing hospital for mental disorder sufferers.
The program established at Beijing's Ping'an Hospital in 2011 is maintained by a local group of senior citizens who offer training in painting, dance, music and handicraft.
Jia, 63, teaches painting, a skill she learned at a community college for senior citizens, while her husband Tian Guohua serves as head of the volunteer group.
Jia and Tian decided to create the program after their mentally ill son died three years ago. After experiencing the difficulty of raising a son with a mental disorder, they decided to create the program to help other patients and their families.
Their idea was welcomed by the hospital, which has more than 140 patients with mental disorders.
Hospital manger Li Shuo says social participation is necessary to ensure the success of the patients' recovery, especially for the restoration of their social skills, such as interpersonal communication.
For more China  Face,
here