The visually-challenged people can also enjoy films through Wang Weili (left)'s vivid narrations at the Xinmu Cinema, on every Saturday. Photos provide to China Daily
If you could see poorly or not at all, would you go to the
movie
s? You might now, thanks to an NGO that makes films and other imagery come to life for the sight-impaired, Xu Lin reports.
Each Saturday morning in Beijing, dozens of visually impaired people gather in a 20-square-meter room to "listen to" films for free. It's Xinmu Cinema on West Gulou Street, where they can totally enjoy the movie thanks to a volunteer's vivid description of the details that they have difficulty seeing.
The cinema is only one of Beijing Hongdandan Education and Culture Exchange Center's programs to improve the life quality of the visually challenged. The center gives many of them a chance to go out of their houses to do whatever they want to do, such as singing, recitation and even drama.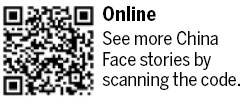 Like many others, Liu Fenglin, 54, from Beijing's Changping district, first came to Hongdandan only to enjoy the movies.
"I like being here. It's like a family. They look after us very well, such as serving us drinking water and helping us across the road when we leave," says Liu, who is a farmer and runs a small grocery.
Thanks to the NGO's training, she also realized her childhood dream - to perform on stage. She not only does recitations and singing, but also plays the leading role in Hong-dandan's The Facial Mould of a Maid by the Seine, the first reading drama in China performed by visually challenged people. The performance is being staged in five cities.
"I used to be self-abased. I dared not speak to others because I would blush with shame. But now I'm more confident and happier. I get along with others very well," she says.
According to China Disabled Persons' Federation, there are about 17 million people with limited sight in China. Hong-dandan's secretary general Zheng Xiaojie, who founded the non-governmental organization in 2003, says most of them just stay at home due to the inconvenience of transportation.
She wants to change the situation.
"Visual impairment makes a profound impact on one's life quality. The life quality of this group defines the life quality of our whole society," says Zheng's husband Wang Weili, who established the cinema in 2005, and trains many volunteers to describe films.
For more China Face,
here