Blood brother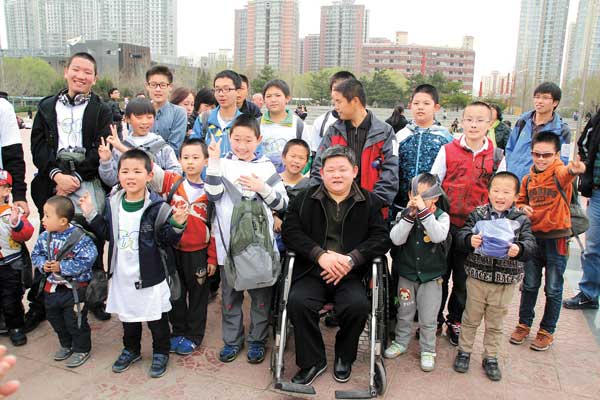 Guan Tao (in wheelchair) meets children with hemophilia at an activity arranged by Guan's Hemophilia Home. Provided to China Daily
Hemophiliacs have a champion in Guan Tao, who rose above his condition and helps fellow sufferers lead normal lives and get medical help, Liu Zhihua reports.
As a 9-year-old schoolboy, Guan Tao knocked his right leg accidentally against a desk. It bled for a month, and afterward became deformed.
He had to quit school three months after enrolment.
At the age of 12, his left leg also became dysfunctional from internal bleeding, and his world shrank even smaller.

Today, things are different.
Sitting in a wheelchair, the 42-year-old Beijing resident moves around a crowded two-bedroom apartment that he and his colleagues use as an office.
Guan is the founder of the Hemophilia Home of China, a non-governmental organization that supports people suffering from inheritable bleeding disorders.
He has been using crutches and a wheelchair since he was 12, when hemophilia caused internal bleeding in the joints and muscles, which deformed his leg joints and deprived him of the ability to walk.
However, together with other hemophiliacs across China, he has succeeded in having hemophilia partly covered by China's medical insurance, which means timely treatment is now affordable for many hemophiliacs in China.
"Hemophiliacs' treatment is not complicated, but it is very costly, up to hundreds of thousands of yuan for a patient a year," Guan says.
"If the government does not pay for it, many hemophiliacs cannot afford the life-saving treatment.
"I've been suffering from disability because there was no efficient treatment when I was young, and I hope such tragedy will not happen to others now."
When Guan was an infant, his parents were confused because he would cry all day and there were always bruises on his body. They did not know what was wrong until he was diagnosed with the disease.
Such a diagnosis almost meant a death sentence at that time - the disease was unfamiliar even to doctors, and there was no treatment available, apart from blood transfusions to replace severe blood loss.
For more China Face,
here