Towering testimony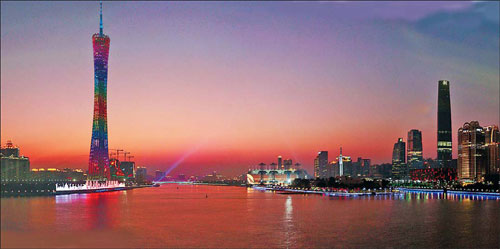 Overlooking the Pearl River, the 600-meter Guangzhou TV & Sightseeing Tower, designed by Dutch architect Mark Hemel, is the city's new landmark. Photos by Zou Zhongpin / China Daily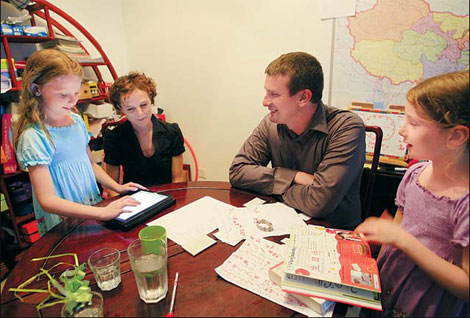 Hemel, his wife Barbara Kuit and their two daughters, at their home in Guangzhou, Guangdong province.
My China dream | Mark Hemel
Designer of the Canton Tower Mark Hemel has decided Guangzhou is the place to move forward with family and career. He talks to Xu Jingxi in Guangzhou.
He had looked at more than 50 apartments before settling for the one he now lives in with his wife and three children. That's because this one has a great view of his best work in the city. "Canton Tower looks beautiful from this angle," Dutch architect Mark Hemel says, as he stands in the garden of his new home.
"It is the landmark of my career," continues Hemel, who completed the design of the 600-meter-high Guangzhou TV & Sightseeing Tower in 2004.
"I had never participated in such a big and complex project before. Almost every architect dreams about designing a city landmark."
In August 2011, the 46-year-old architect, who has grown attached to the Guangzhou landmark and the city, made a decision. He moved his family from Amsterdam to Guangdong's provincial capital.
"The project is meaningful not only to my career but also my life. I have devoted eight years of my life to it," says the architect, who's known for his unconventional designs, best exemplified by the Canton Tower.
It has the smooth elegant silhouette of a woman keeping vigil by the Pearl River, the city's mother river.
Now that Hemel has achieved his dream of designing a city icon, he wants to move on to other projects and a chance to design culturally significant buildings like museums and theaters. He is convinced China is where he will get the best opportunities.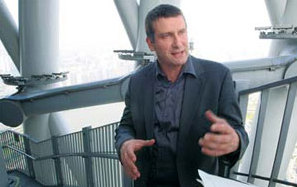 Propelled by rapid economic growth, the country has become the promised land for architects around the world. New landmarks are mushrooming in major cities, and many bear the signatures of foreign architects.
Besides Hemel's 2.95-billion-yuan ($460-million) Canton Tower, Swiss architects Jacques Herzog and Pierre de Meuron helped design the Beijing National Stadium, or Bird's Nest, the centerpiece of the 2008 Beijing Summer Olympics.
American architect Steven Holl's Vanke Center in Guangdong's Shenzhen was completed in 2009, and Japanese architect Tadao Ando's latest creation, Shanghai's first lakeside theater, is set to finish construction in 2013.
"People in fast developing countries are open to state-of-the-art architectural designs," says Vincent Lam Siu-yu, project manager at Arub Group Limited, an engineering consulting firm that worked with Hemel during the Canton Tower project.
"Architects can give full play to their creativity here in China."
Hemel first went to Guangzhou on his honeymoon tour of Asia in 1995. Even then, he was already impressed with the city's vitality.
"Guangzhou is dynamic. It's constantly changing and reinventing itself," he says.
"Seeing construction springing up across the city made me believe that I could find plenty of opportunities here."
When he heard in 2004 that Guangzhou was launching an international search to design its landmark high-rise, Hemel immediately submitted his pitch.
Three years after its completion, the Canton Tower still plays an important role in Hemel's daily life. It's a solid testimony to his talents.
He still gives presentations at the tower, and prospective clients always ask to see it.
For Hemel, moving his family to Guangzhou was "a gamble", but it was a calculated risk.
"I don't know whether I will have as many opportunities as I hope," he says.
His success with the Canton Tower has become a double-sided sword to the architect's career.
Job offers come in, and Hemel gets at least one a month, according to Shen Bin, his assistant in Guangzhou. But, according to Lam from Arub, Hemel is also struggling to find new directions.
"Many clients ask him for designs similar to the Canton Tower's," Lam explains.
"But while architects sometimes refuse repetition and long to innovate, few clients are able to support this ideal."
There are also other hurdles. He admits he has had trouble networking with other architects in China.
"In Amsterdam, basically all the architects work in the same building in an artistic community," he says.
"In China, architects and engineers are scattered, so I felt a bit isolated."
But he is trying his best to adapt to the Chinese style of networking.
"I attend networking banquets in China more often than I did in the Netherlands," he says.
"It's interesting that Chinese love to take turns toasting you."
He once had to drink 40 shots of liquor during one dinner because everyone wanted to drink with him.
Shen, Hemel's assistant, says the architect goes to at least five networking events a month.
"It is necessary, especially if we want an edge over local companies," Shen says.
"In China, the client sometimes chooses a design because he knows the architect well."
It may take time for Hemel to understand the intricacies of Chinese culture, but he's enjoying the journey. He and his family travel a lot, often to marvel at China's diverse vernacular architecture.
Hemel says he and his wife Barbara Kuit, who's also an architect, are most impressed by the tulou, or the circular communal buildings built by the Hakka people of Fujian province.
"The local people designed and built these, which are not only beautiful but also environmentally intelligent," Hemel says.
Hemel says such wisdom from vernacular architecture not only inspires him but also gives him a better understanding of Chinese culture, which he hopes will give him an advantage when it comes to pitching new projects in China.
According to Patty Lui Yuen-mam, Hemel's assistant during the Canton Tower project, this is an important factor.
Hemel's design of the Canton Tower won over the client because of its concept of a fair lady overlooking the Pearl River. The presentation struck a chord because Guangzhou's citizens have great affection for their mother river.
After nearly a year, Hemel and his family are slowly getting used to life in China.
Zoe, an outgoing 9-year-old who's the family's eldest child, has been quick to learn Chinese and was recognized by her school for her progress.
Nina, his 7-year-old daughter, also tries to teach her parents a little Chinese. Their little brother Liam, 6, enjoys skating in the city's open square a lot.
Hemel himself has a long list of what he loves about China: Chinese people are friendly to newcomers. People give seats to the elderly on the bus. And, above all, Chinese food pampers his palate.
"I don't know the result of my gamble in moving my whole family to China, but I'm sure at least that my children will earn some useful luggage for their future journeys," the father says.
His wife, who supported her husband's decision to move, hopes her kids can learn from their time in Guangzhou.
"The children are being exposed to a different culture and lifestyle, and will become more open-minded and better able to handle new environments in the future," she says.
Hemel says that, if anything, the move has made his family closer.
"Living in China has made us conscious about the importance of family," he says.
"It is difficult to adapt to all the differences in a new city, but as a family we handled it. We stay together and support each other."
Contact the writer at xujingxi@chinadaily.com.cn.