Architecture fraternity mourns Luo's death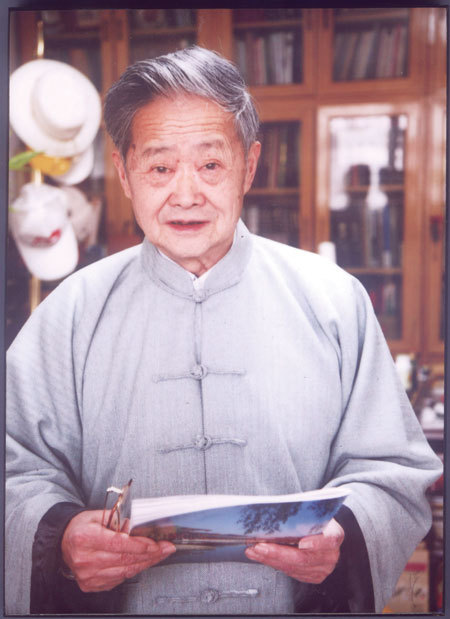 The great ancient architecture scholar Luo Zhewen passed away at age 88 on May 14 in Beijing. Photo provided to China Daily
China lost a great ancient architecture scholar, Luo Zhewen, who passed away at age 88 on May 14 in Beijing.
"Luo has devoted his whole life to China's cultural heritage protection," says 90-year-old renowned ancient architecture expert Xie Chensheng, who joins the architecture fraternity of China to mourn the loss of Luo.
"Luo's two major contributions are research and repair of the Great Wall, and the preservation of historical and cultural cities," says Xie, Luo's comrade-in-arms.
Both have been hailed as "saviors" of China's cultural and historical heritage for their contributions. In fact, just three years ago, the duo was awarded the Lifetime Achievement Award of Chinese Cultural Heritage Protection by the State Administration of Cultural Heritage.
Born in 1924 to a farmer's family in Yibin, Sichuan province, Luo started his lifetime interest in ancient architecture at 16, under the mentorship of Chinese master architect Liang Sicheng (1901-72).
At 22 years old, Luo moved to Beijing to assist Liang, who was appointed the director of Architecture Department of Tsinghua University. Luo always considers himself blessed to be under the tutelage of Liang, who has given him a thorough and solid foundation in architecture.
"He taught me everything, even trivial things like sharpening a pencil and using an eraser," Luo once wrote in an article. Even his working name, "Zhewen", was given by Liang, he said.
In 1950, Luo was transferred to the State Administration of Cultural Heritage and became the youngest ancient architecture expert in the department.
Since the 1950s, Luo has presided over and participated in the repair projects of the Badaling, Shanhaiguan and Jiayuguan sections of the Great Wall. Decades of devotion have won him the title of "the pioneer of Great Wall preservation".
Luo and Xie also teamed up to save the ancient city walls of Beijing from those who insisted on tearing them down. In 1982, the State Council approved Luo's proposal and announced the first batch of Historical and Cultural Cities, which includes Beijing and 23 other cities.
Three years later, Luo and three other members of the National Committee of the Chinese People's Political Consultative Conference successfully brought China into joining UNESCO's Convention Concerning the Protection of the World Cultural and Natural Heritage.
Luo and two other experts were also instrumental in calling for mayors of 18 cities along the Beijing-Hangzhou Grand Canal to apply for world heritage status. The preparation work is under way, and China is set to lodge the official application in 2014.
Luo's other contribution includes introducing the concept of a "history track", by erecting signboards with historical and cultural information on various walking and riding paths along the Grand Canal.
"After retirement, Luo entered his second career peak. From a specialized ancient architecture expert, he became a strong advocate of cultural heritage protection," says Qi Xin, who has been Luo's assistant and disciple since 2004.
"My teacher wanted to invite people from different countries to ride with him along the canal, so that the whole world will share its charm," Qi adds.
A 22-km history track is now ready on the Hangzhou section of the Grand Canal. Qi, who is the project leader, says he is considering naming it "Luo Zhewen Track" to pay tribute to his teacher.
"He was a lovely and happy old man with a little obstinacy," Qi says of his respected teacher. Luo liked to drink and munch on peanuts, he adds.
"Do great things with a common heart. That's what my teacher had done and taught us. Now it's our turn to carry on his legacy."
Luo's memorial service will be held on May 20 at the East Hall of Babaoshan Cemetery.