When I decided to throw an extravagant birthday party for my girlfriend in Shanghai, I underestimated how much work it would require, without a party planner. I needed balloons, decorations, cake, candles, and so on. But I also underestimated the far-reaching power of Taobao and other e-commerce sites in China if you can read Chinese.
To most foreigners in China, Taobao is akin to a great mythical creature. We have all heard of its great prowess but most of us are too afraid to go near it. After all, the entire site is in Chinese and the payment system is quite complex and nearly impossible without a local bank account.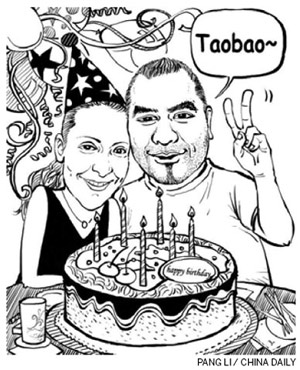 In the West, we're accustomed to the likes of Amazon and eBay where, with only a few clicks and a major credit card, your order is shipped in three to five business days.
Taobao, on the other hand, has multiple storefronts, billions of products and certain nuances that very few foreigners have figured out. Hence most foreigners in China either simply "outsource" their Taobao shopping to a Chinese friend or ignore it altogether.
I personally wasn't too keen on the Taobao outsourcing model and decided to take up the challenge.
Last year, I set out to gain my Taobao independence.
The first step was to set up an account on Taobao.com and input my contact details. I admit I got some help from my Chinese colleagues but I justified it as "they were teaching me how to fish as opposed to catching it for me."
Step two required some basic Chinese character recognition to search for a seemingly endless inventory of products. Not only do you have to translate the item you're looking for but you also have to filter the result by location, price, volume, and vendor ratings.
Step three is probably the most difficult: negotiating price, availability, and shipping, with the vendors. This may seem odd to foreigners. However, like everything else in China, the shopping-on-Taobao experience comes with (chat-enabled) haggling. A tiny blue icon near each item directs you to a live person on the other end who is ready and willing to take you on.
"Ten yuan ($1.56) to ship within Shanghai?"
"Impossible."
"No discount for buying more than one item?"
Can't hurt to ask within the face-saving confines of a small chat window.
While the live-chat haggling process was intimidating at first, I quickly learned to copy and paste from Google Translate when I ran into problems, which is more often than I would like to admit.
The final step is the payment process, which requires a local bank account, pre-installed online banking software, and the USB security key. Sorry, no major credit cards.
From the shopping cart, the site takes you through multiple pop-up windows (phishing bait), passwords, and more passwords, until you see the two blue shiny characters for "success" displayed in bright colors when the order is complete.
In the past two years, I've spent a small fortune on Taobao and other e-commerce sites in China. I've bought everything from birthday decorations to camping equipment, iPhone cases and yogurt and ice-cream making machines. The possibilities are truly endless.
My only limitation is the ever decreasing balance of RMB in my local bank account. This is probably a good problem to have given that e-commerce sites in China are growing rapidly and more goods and services are available with lightning fast delivery.
Yet, all of these sites are domestically focused and only target local Chinese with increasing budgets. Credit card-toting foreigners are not the target market. So unless you want to trouble your Chinese friends, foreigners ought to consider a crash-course in Taobao for dummies.
Fortunately, I took the plunge and it served me quite well. And my girlfriend's extravagant party went off without a hitch! Lighting and decorations and gifts: Taobao.com; dessert: 21Cake.com; balloons and candles: Qiqiu.com. All sitting at home and waiting for delivery instead of running around town in crazy traffic: Priceless.