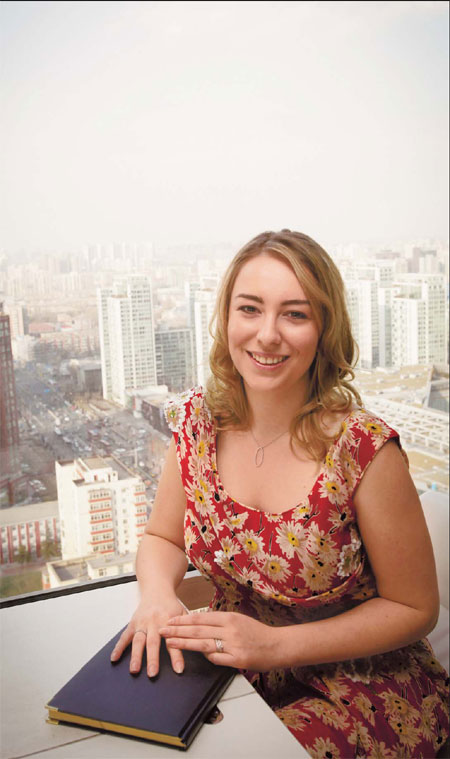 Jessica Rudd, daughter of the former Australian prime minister, has her book set against a backdrop of realpolitik. Zhang Tao / China Daily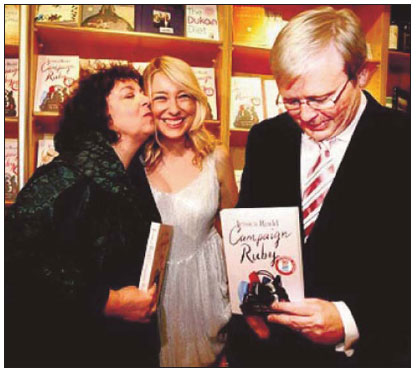 Jessica Rudd with her mother Therese Rein and father Kevin Rudd. Provided to China Daily 
When Jessica Rudd wrote Campaign Ruby, she never thought that work of imagination would ever play out in real life. Chitralekha Basu reports.
Jessica Rudd recalls trying to assist a Chinese cook make dumplings at her Beijing home in one of the diplomatic enclaves around Ritan Park, aged 3. This was in the mid-1980s when her father, former Australian prime minister Kevin Rudd, was serving at the Australian Embassy in Beijing.
Her return to Beijing in August 2009 also led to an outburst of creative activity, albeit in an altogether different direction.
Rudd, 27, a Canberra-born, Brisbane-raised ex-lawyer, ex-campaign worker, ex-PR worker, is now the author of a much-loved book about a young, single, London-based investment banker who gets fired in the wake of massive retrenchments, lands up in Australia quite by mischance, only to be sucked into the campaign circus leading to the federal elections.
Campaign Ruby is basically about a clumsy and clueless Ruby Stanhope and her wild romp around Australia in three weeks - a frenetic, whistle-stop tour through its cities, small towns, beaches, valleys and deserts.
It's a delectable page-turner that comes with a tight plotline, dramatic reversals, endearing characterization and, most importantly, the ability to evoke laughter without malice.
Set against a backdrop of realpolitik, Campaign Ruby has, admirably, managed to steer clear of people from real life. Rudd has created a cast of recognizable character prototypes - the unscrupulous spin doctor, the mendacious journalist, the poster-girl election candidate and so on - and yet has never been accused of character assassination.
"I did not pick real political characters, only tried to show how politics works," she says, flashing her trademark wide, disarming smile (she's blonde and extremely glamorous, even without wearing a pair of Louboutins that Ruby is always fantasizing about). "The book was out in August and no one's complained since."
Ruby, of course, is recognizably Rudd herself. Her story draws heavily on the experience of being a part of the election campaign that led her father to win the top job in 2007.
"I had exactly that buzz. The reality of a campaign is that you are not in control, you don't know where you're going to be next and when you're going to see the next washing machine. What drives you is the longing to make a difference," she says.
The night her father was declared the winner was "electric", she recalls, but it was also memorable because of the undertones of tragedy that the victory seemed already fraught with.
She remembers outgoing prime minister John Howard's concession speech, being touched by the way his family was there to support him.
"It made me sad. I also had the sense that this was a family, not unlike mine. I had a feeling that one day it could be us, although I did not imagine it would happen quite so soon."
She was heartbroken, when her imagined sequence of events leading to the sudden dismissal of the sitting prime minister, engineered by his ambitious female deputy, seemed almost clairvoyant in anticipating the future.
In June 2010, the then Australian Labor Party deputy leader Julia Gillard challenged the leadership of Kevin Rudd, who stepped down soon after.
"I was mortified by the course of events, at the possibility that people could say I wrote this on purpose to milk money out of it," Rudd says.
Her family and publisher rallied round her, assuring her she did not actually bring on the disaster by imagining it.
Her father, who must have been still hurting from a career setback, surprised her with his show of support at the launch.
"I had expected him to say I was wasting my time and my qualification in law, but he encouraged me all the way through."
But then, Kevin Rudd, now Australian foreign minister, and Jessica Rudd, his first-born, have always shared a very close and deep understanding of each other.
Years ago he would pick up the child Jessica when she got agitated and make her run her fingers across the spines on bookshelves to soothe her nerves. "I guess that's where I learnt that books could be a source of comfort."
It's this basic idea that drives her writing. "I want to bring as much joy to the reader as I had writing the story," she says.