Security guards at the National Art Museum of China, which recently became free to enter, are working overtime to stop unruly visitors from damaging exhibits.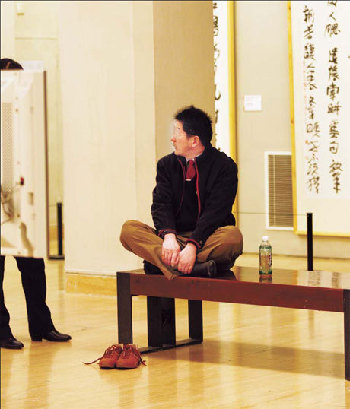 A visitor relaxes in an exhibition room at the National Art Museum of China on Monday. Zhang Tao / China Daily 
Roughly 12,000 people passed through the museums doors at the weekend, the first since it was opened free to the public on March 2. The daily average used to be 2,000.
The increased numbers have brought extra challenges for managers, who say they are being forced to remind visitors to behave.
"Just now I had to stop a middle-aged man who was touching a painting, which is round in shape," said Liu Ke, a museum security worker. "When I told him not to touch the works, he said he was simply trying to change the direction of the painting because he thought it looked better that way."
He said the 70-strong security team, which normally operates on a two-hour shift pattern, is working overtime on weekends to ensure exhibitions are not damaged.
When METRO reporters visited on Monday, two women were sat on a bench in one first-floor exhibition room eating and chatting loudly.
In another room, which holds a display on contemporary art from Taiwan, a young girl was turning the moveable vanes of one piece placed on a balcony. Her mother was standing next to her daughter but did not react.
Liu said that, in most cases, visitors do behave once they are politely warned. A code of conduct is printed on the tickets issued at the main gate, but there are no signs at the doors of the exhibition rooms.
"It's OK on weekdays, but on weekends when the rooms are filled with people it's really hard to spot every bad-mannered person, especially when they're using flash photography," said the security guard.
According to the museum's website, managers have imposed a daily limit on visitors, with 2,000 people able to book tickets online a week in advance and another 4,000, who can collect tickets at the gate on the day.
At the reopening ceremony this month, curator Fan Di'an said that, by dropping the entry charge, the museum can share its rich cultural resources with everyone.
Many applauded the move, while others have expressed concern that the usually tranquil atmosphere may be lost.
"At least 1 yuan should be charged, otherwise the museum will simply become a place to avoid the heat in summer," said a visitor called Zhang who did not want her full name used. "If that happens, those who come for the love of art will not be able to concentrate and appreciate the works."
China Daily