Tending a garden can be therapeutic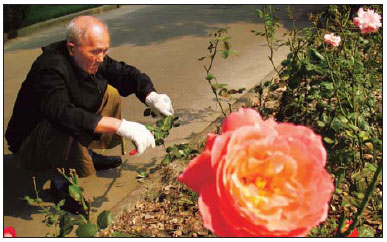 Gardening lets injured people feel capable again, doctors say. Zhang Bo / Asia News Photo
Gardening does a body good. The gardener communes with nature, can sow and reap, shape the garden as he or she sees fit, relax or simply enjoy the beauty of it. Gardening's many positive aspects are also used to treat people who are ill.
"Gardening therapy has existed in Germany for about 20 years, though the idea is much older," notes Konrad Neuberger, chairman of the Association for Horticulture and Therapy in Germany. Psychiatrists discovered more than 300 years ago that working outdoors in the midst of nature has salubrious effects.
Today several hundred institutions in Germany, most of them psychiatric, include gardening in their repertoire of therapies.
Among them is the Helios Clinic in the town of Hattingen, which specializes in neurosurgical and neurological rehabilitation. It has been employing gardening therapy for 18 years. The patients there are people who have had traumatic brain injuries, cerebral hemorrhages or tumor treatments.
"It's often during moments in the garden that they feel they're capable again," says Andreas Niepel, a Helios therapist and president of the Germany-based International Gardening Therapy Society.
Gardening therapy has multiple benefits. First is the physical benefit: Weakened people strengthen their bodies while gardening. And unlike physiotherapy, patients tending to a garden derive additional benefits by creating or changing things.
"They can put away flower pots and improve their gripping ability, for example," Neuberger says.
The spectrum of work in a garden is broad, ranging from simple activities such as crumbling soil to more challenging ones like trimming a hedge. There is something to do for people of all abilities. And patients with excess energy can work it off in a garden.
Above all, however, gardening is good for the soul. People on the receiving end of care become caregivers. They are needed and have a task. A lot of patients look forward to gardening and caring for their plants, which would wither and die for lack of water without them.
"The people become active and experience themselves as useful. That's good for their self-esteem," remarks Andreas Lindner, a psychologist who works at the Muenzesheim Therapy Centre, near Karlsruhe, a specialized hospital for men suffering from addictions. "Gardening helps them to overcome and accept their illness."
Addicts are totally preoccupied with their addiction, but gardening helps them to open themselves up to the world and be aware, for the first time in a long while, of their surroundings.
"It's very positive for therapy when it's enjoyable for the patient," Niepel says. Part of the enjoyment of gardening is that the focus, in contrast to many other therapies, is on the patient's abilities, not their disability.
A therapist is always present in the garden with the patients, speaking with them, provoking them to think and making suggestions. The therapist can point out, for instance, how straight a tree grows.
"The people then automatically straighten their backs, remembering that they, too, stand upright," Neuberger says. "Looking at the plants shows us our own possibilities of development."
German Press Agency
(China Daily 03/09/2011 page19)