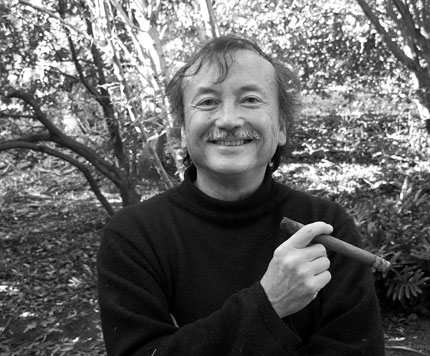 Australian writer Brian Castro visited Shanghai last week for the ongoing Shanghai International Literary Festival. Castro's novel "Shanghai Dancing" is one of a 10 book series on contemporary Australian literature recently published in Chinese.
The front cover of Brian Castro's "Shanghai Dancing" shows a four-man dance band posing behind a drum. The sepia tones and the slightly tense faces are evident in many photos in the book, "a fictional autobiography," as Castro calls it. He even includes a two-page fictional family tree at the beginning.
"Some of these photos are my family pictures, but others are fake photos I asked technicians to make," the Australian author tells Shanghai Daily.
"It is to warn readers not to believe everything in this book, or any memoirs. They are never entirely facts, but rather psychological truth, which is one of the issues I'm interested in writing this book."
The melancholy and half-fictional family memoir, dotted with humorous punning and slapstick scenes, is one of a 10-book series on contemporary Australian literature recently published in Chinese. The 10 were selected by Huang Yuanshen and Wang Guangling, English literature professors at the Shanghai Institute of Foreign Trade and published by the Shanghai Translation Publishing House.
"We proposed this because Australian literature is still rather an unknown field to Chinese readers, except for Colleen McCullough's bestselling 'The Thorn Birds,' popular here largely due to the TV adaptation," says Huang.
To pick the novels that can represent Australia, the professors agreed to choose from the Miles Franklin Award winners and also to include an Asian Australian and an Aboriginal writer to represent diversity.
The series includes eight Miles Franklin Award receivers - Thomas Keneally's "Three Cheers for the Paraclete" (1968), Tim Winton's "Shallows" (1984), Elizabeth Jolley's "The Well" (1986), David Malouf's "The Great World" (1991), Christopher Koch's "Highways to a War" (1996), Peter Carey's "Jack Maggs" (1998), Thea Astley's "Drylands" (2000), and Frank Moorhouse's "Dark Palace" (2001).
They have also published Aboriginal author Archie Weller's first book "Day of the Dog" (1981). And Castro, born in Hong Kong and of Portuguese, Chinese and English heritage, represents the Asian Australian with "Shanghai Dancing" (2003).
Keneally and Castro visited the city to speak at the ongoing Shanghai International Literary Festival last weekend about their works.
"I found it very different and difficult to write this book, because I had to betray everyone, especially my father and mother," recalls 60-year-old Castro.
"This is why I didn't start the project until my father passed away in 1996, and this is also partially why I borrowed the voice of Antonio Castro, a brother. And I did have a brother who died at the age of two from malnutrition."
In the book, Antonio Castro decides to return to China and leaves everything behind, including his marriage, in Australia, where he has lived for 40 years. He recovers and reveals stories of his family, especially his liar father and sad mother.
In real life, Brian Castro visited Shanghai for the first time in 1996, after his father passed away after living a poor life and bragging about how rich he was in the past. The author only spent two weeks in the city, traveling around like any other tourist, and found the atmosphere of the former French concession most conducive to the creative process for the book.
"It was not facts or history that I was looking for in this city. Instead, it was the atmosphere of how people lived in the 1930s, just like my father did as a Portuguese Shanghailander, that I wanted to grab a feeling of," he explains.
He adds that the book's title "Shanghai Dancing" is a reference to Michael Ondaatje's "The English Patient," in which the term was mentioned in a conversation in the first chapter but never explained.
"I'm explaining what 'Shanghai Dancing' is with this book," he says.
And Castro offers two definitions. It indicates that dancing was popular in Shanghai in the 1930s, when a man might toss a coin in the jukebox and invite a woman for a dance.
In the book, Arnaldo Castro, the father, won first prize for the paso two-step in the Shanghai Ballroom Dancing Competition along with his second wife. And Jasmine, his third wife and Antonio's mother, was also described as dancing with an imaginary partner in the hours before a ball, which is then cancelled. It was witnessed by Antonio in his childhood and was the only time he saw his silent and sad mother dance.
In real life, Brian remembers his mother said, "I am finally free" soon after his father passed away.
"There is a second definition of the term Shanghai dancing," he says. "Shanghai-ed also means kidnapped in Australian English, so the term 'Shanghai Dancing' also indicates a life full of lies, as the truth is kidnapped."
Christopher Koch is one of the few Australian authors to have won two Miles Franklin Awards, with "The Doubleman" in 1985 and the "Highways to a War" in 1996. "Highways" reconstructs the experience of legendary Australian war photographer Mike Langford through his friend and has been selected for the series in China and published recently.
The novel explores the psychological wounds resulting from wars covered by Langford in various Asian battlefields in the 1960s and 1970s, from Vietnam to Cambodia.
The late Thea Astley won the prestigious prize four times, more than any other writer. And the Shanghai professors picked her last book "Drylands" (subtitled "A Book for the World's Last Reader") for translation.
Astley depicts struggling inhabitants of a remote, parched village and creates a microcosm of Australia.