Hearing today can go tomorrow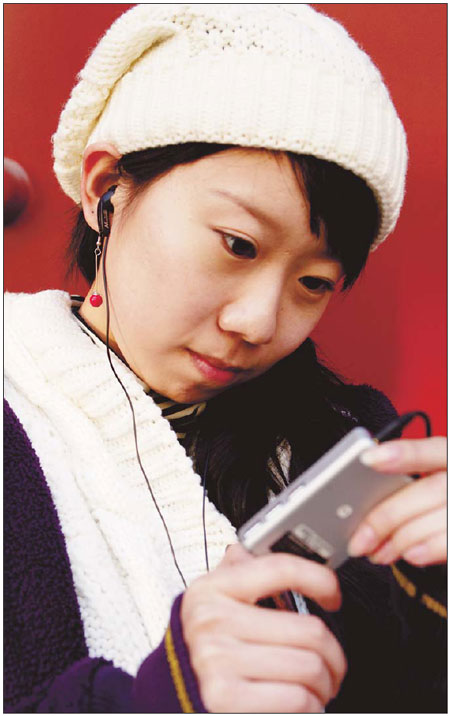 Listening to music through headphones at too high a volume can seriously damage your hearing. Photos Provided to China Daily

It's easy to take your hearing for granted until it's too late.
With the wide popularity of digital entertainment products, it is not uncommon to see people wearing headphones and listening to music while running in the park or using public transport. But the volume is often so loud that people around them can hear the music as well.
However, doctors warn that such behavior can potentially damage your hearing.
"In noisy places, people tend to turn the volume up to get the same clarity of sound. Unfortunately, that can damage the hearing without people being aware of it," said Feng Yongfeng, chief ENT physician at Beijing Tian'an Hospital of Traditional Chinese Medicine.
After Spring Festival, the hospital witnessed a slight increase in the number of teenagers coming in with hearing problems, which Feng attributed to them wearing headphones at home for long periods during the holiday.
Feng said both in-ear and overhead headphones can harm the ears and advised against using them for prolonged periods, as doing so can cause ear pain, dizziness and tinnitus, and, in extreme cases, even deafness.
He said if you do use headphones it is worth investing in the highest quality you can afford, as the more expensive headphones have better sound filtering.
"Sharing headphones and earplugs with others should also be avoided as well, so as to reduce the risks of getting inflammations," Feng said. "I recommend enjoying music through loudspeakers at moderate volumes."
Wang Yang, a senior high school student who visited the hospital on Wednesday, said: "My hearing got bad several weeks ago because I listened to too much loud music on the subway. On the advice of my doctor, I gave up the habit and now my ears are recovering. The volume which I found comfortable in the past sounds too loud now."
Li Yuejuan, chief physician at the ENT unit of the China Academy of Chinese Medical Sciences, Xiyuan Hospital, strongly advises people to avoid wearing headphones to listen to music and then falling asleep.
"Pushing the ear piece against the pillow can cause serious harm to the eardrums, which are at rest when sleeping."
Apart from headphones, there are also other bad habits that can potentially damage your hearing, she said.
On average there are 10 patients every year who suffer hearing problems due to too much talking on cell phones, and the number is expected to rise as more and more people become cell phone users.
"Research has found that talking on the phone for more than 30 minutes can be as harmful as listening to music at high volume through headphones for more than an hour," said Li.
Meanwhile, karaoke bars, clubs and dance halls, which are popular entertainment venues for young people, are other hearing hazards.
"Normally, our ears are accustomed to sounds between 40 to 50 decibels. But in the settings like a KTV, the volume usually goes up to 80 to 90 decibels, which can cause damage to the ears," Li said.
Another no-no is cleaning your ears with a stick, a service provided by some hair salons in China.
"In fact, it's not necessary to clean our ears. By repetitively chewing every day, ears get cleaned by themselves," said Li. "It's dangerous to put a stick in your ears; you are running the risk of breaking the eardrum."
Li said that if you do feel your hearing is being affected by a build-up of earwax, you should resort to medical help.
Lastly, she emphasized the importance of blowing one's nose one nostril at a time.
"Don't let both nostrils ventilate at the same time, as the pressure in the nose may cause the inflammation to flow into the middle ear.
"Never treat ear problems as a minor complaint. Ears are as important as eyes. Once you hear ringing in your ears when you hear cicadas, sirens, whistle or metal sounds, you should go to the hospital to prevent the problem from getting worse."
China Daily
(China Daily 03/10/2011)