Hungarian helps to bridge gap between continents
Levente Horvath, head of the education department at the central bank of Hungary, considers his journey living in China as an achievement, due to his love of Chinese films and cartoons during his childhood in Hungary.
"I love Chinese films and novels, such as Romance of the Three Kingdoms, a famous historical novel which tells the lives of feudal lords and their retainers, who tried to replace the dwindling Han dynasty and restore it," says Horvath, who was born in Budapest, Hungary, in 1988.
Cao Cao, a Chinese warlord and the chancellor of the Eastern Han Dynasty in the novel, is the 30-year-old's favorite, because of the character's bravery and intelligence.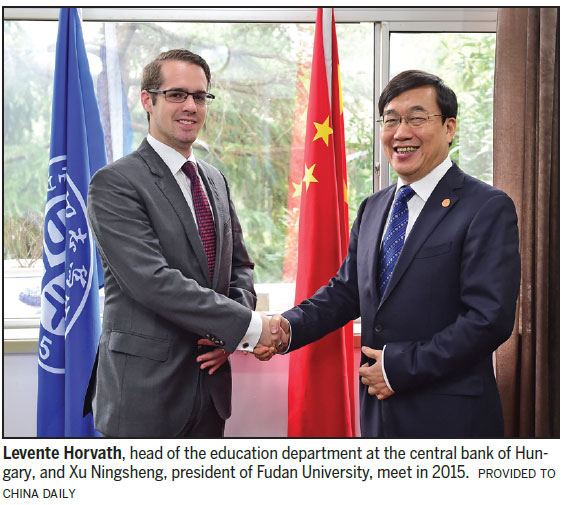 During his high school studies, Horvath won a scholarship to study in Nanjing Jinling Senior High School in Jiangsu province.
"My two brothers, who also won the scholarship, chose to study foreign languages in South America, while my passion to learn Chinese inspired my decision to go to China to explore traditional Eastern culture," he says.
Horvath lived with three Chinese families during the one-year exchange program in Nanjing.
"I was moved by the hospitality shown by Chinese families. They taught me how to speak Chinese, through various Chinese storybooks or textbooks that are used by their children at my age at school," says Horvath, who can now speak Chinese fluently.
"Chinese food is delicious, and my favorite dish is fried eggs with tomatoes, which is a little tart blended with sweet."
It's been 12 years since he left Nanjing, but the Hungarian still keeps in touch with the host families, and calls the families' hostesses his "Chinese mothers".
After the exchange program, Horvath decided to apply immediately for a Chinese university.
In 2008, he became the only Hungarian undergraduate enrolled at Fudan University in Shanghai that year, after learning Chinese language in preparatory courses at the university for a year.
"I am grateful for Fudan University, where I met my wife, Niu Shan, a postgraduate at Fudan, in addition to acquiring knowledge and becoming familiar with this great country," says Horvath.
"My marriage is somehow an excellent example of cross-cultural communications," he adds, smiling.
They have been married for three years, and his wife is expecting a baby.
After graduating from Fudan University, Horvath was appointed as consul general of the Hungarian consulate in Shanghai. Thanks to his efforts, tourism in Hungary is becoming popular among Chinese, and many Chinese scholars have given lectures at Hungarian universities in the past two years.
While he was consul general, he met with Xu Ningsheng, president of Fudan University, in 2016, and Xu encouraged him to give full play to his expertise and continue to contribute to the cultural exchanges and cooperation between China and Hungary.
Horvath says: "Hungary is a country included in the Belt and Road Initiative, a development strategy proposed by China focusing on connectivity and cooperation between Eurasian countries. I hope to further promote the Hungarian financial sector's collaboration with Fudan University."
Horvath promoted the cooperation between the Hungarian National Bank, the country's central bank, and Fudan University during the Shanghai Forum in 2017, at which Gyorgy Matolcsy, the central bank's governor, gave the keynote speech.
In June last year, Horvath became the director of the central bank. In August, a delegation from Fudan University was invited to visit the central bank. During the meeting, Matolcsy said Hungary, as a key participant in the Belt and Road Initiative in Europe, is responsible for a better understanding of China by Central and Eastern European countries.
Last year, the governments of China and Hungary signed 11 bilateral cooperation documents in the fields of politics, economy, trade, finance and humanity.
According to Horvath, China Eastern Airlines is expected to launch a direct flight to Hungary in 2019, "which will greatly facilitate better communications between the two countries".
caochen@chinadaily.com.cn