Big four focus on Yangtze 5G technology project
China's big four telecom companies will invest more than 200 billion yuan ($31 billion; 26 billion euros; £23 billion) in four years to build up cutting-edge information infrastructure for fifth-generation mobile communication technology in the nation's Yangtze River Delta region.
China Mobile, China Unicom, China Telecom and China Tower Corp said they will build up a globally pioneering 5G application network across the Yangtze River Delta region by 2021, as part of a deal that they have inked with authorities from Shanghai and the three neighboring provinces of Zhejiang, Jiangsu and Anhui.
Under the partnership, the four companies plan to build the world's largest 5G field trial network in the region this year. In 2019, the Yangtze River Delta region will be among the first to access pre-commercial 5G services before telecom companies formally roll out the network in 2020, according to a statement from the Shanghai Commission of Economy and Information Technology.
The plan is part of China's broader push to lead the world in the application of 5G, a superfast technology that can allow consumers to download an 8-gigabit movie in seconds and have access to services such as autonomous cars and remote surgery.
The first version of global standards on 5G is expected to come out this month, laying a foundation for global companies to begin building large-scale 5G networks.
Huang Yuhong, deputy head of the China Mobile Research Institute, says 5G will no longer be a simple technology or a system. Instead, it will be a platform on which the telecom industry needs to be deeply linked with other sectors. That is the fundamental difference between 5G and 4G.
According to CCID Consulting, the market size of China's 5G industry is expected to reach 1.15 trillion yuan by 2026 - 50 percent greater than its 4G market.
Wang Zhiqin, vice-president of the China Academy of Information and Communications Technology, has said China lagged behind some other countries in building 3G and 4G networks. But with 5G, it is racing ahead in research and development, as well as trial applications.
The country is likely to issue 5G licenses to telecom carriers in the second half of next year at the earliest, and will be among the first in the world to issue 5G licenses, Wang said earlier this year.
masi@chinadaily.com.cn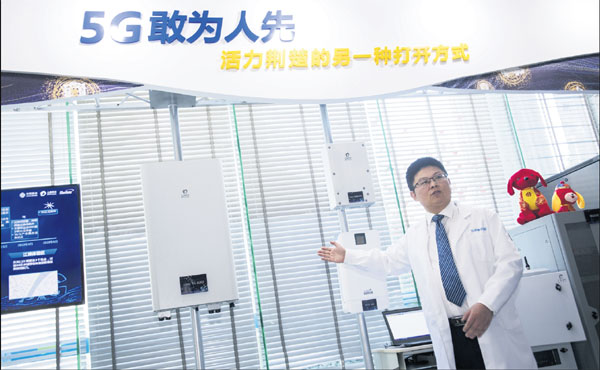 An engineer introduces 5G network at the first trial 5G base station in Wuhan, Hubei province. Xiong Qi / Xinhua