Stars on a bigger stage
This year, two students from Wuhan University got their papers accepted and were invited to attend an international conference at the University of Sheffield. Zhang Zefeng reports.
Dressed in a white sweater and deep blue pants, 24-year-old Wuhan University student Lu Liuxing takes a deep breath before stepping up to the podium in a spacious lecture hall at the Diamond Library of the University of Sheffield in the United Kingdom.
This is the first time that Lu is presenting at an international conference.
In front of her are scholars and researchers from around the world.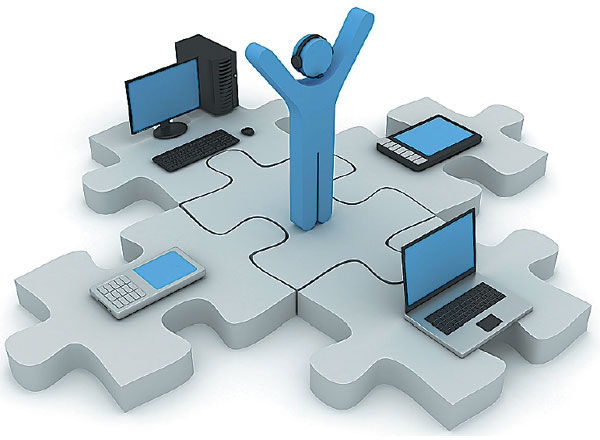 She takes questions from them after the presentation.
"I was quite nervous," says the information and library science major.
"You usually don't expect many questions when making presentations in China, but here, the audience wanted to ask questions and engage in discussions."
The gathering Lu attended was the iConference, which took place at the University of Sheffield from March 25 to 28.
The theme of the event was Transforming Digital Worlds, where 466 delegates from academia, industry and NGOs shared their concerns and observations about critical information issues facing contemporary society.
This year, two students from Wuhan University - Lu and Library Science graduate student Cheng Lei - had their papers accepted and were invited to attend the iConference.
"I feel honored to be accepted," says Lu. "It's a great encouragement, which makes all my research efforts worthwhile."
Lu's research focuses on user's information behavior in navigation.
"Most related research focuses on car navigation, but only a few researchers examine pedestrian navigation," she says.
Inspired by Stanford professor Li Feifei's recent research on emotion in artificial intelligence, the paper analyzes a user's emotional changes in pedestrian navigation while using map apps.
"Users' emotions can significantly affect their perceptions toward apps and affect user behavior," she adds.
The research team finds that emotions of disgust and happiness are common in pedestrian navigation. And they hope to offer insights to app developers to promote emotional learning in artificial intelligence.
Lu also plans to find out what triggers negative emotions.
"I want to help users to find a happy road in my further research," she says.
Cheng's paper Predicting Search Performance from Mobile Touch Interactions on Cross-Device Search Engine Result Pages focuses on human-computer interaction and information retrieval, which examines how mobile touch interactions affect search performance in cross-device searches.
"If you search a topic on a smartphone, you see certain related information there," says the 24-year-old Library Science major.
"But when you switch to a different device, you might see information that hasn't appeared before."
Wu Dan, their professor at the School of Information Management at Wuhan University, says: "It's unusual for postgraduate students to present at such a high-level conference, and both of them feel honored to be participating.
"They faced multiple challenges including language and psychological barriers, but they made it. Such experience will be very beneficial for their future development."
This is the fourth time Wu has taken her students abroad for international conferences.
The conference offers researchers a platform to connect with other scholars through lectures and thought-provoking workshops.
"The conference allowed me to engage in discussion with scholars from around the world.
"And it also enabled me to see some emerging and cutting-edge research," says Lu.
Meanwhile, the two students made friends with students from other Chinese universities including Nanjing University and Tsinghua University.
"One of the positive aspects of attending such a conference is social networking. Students can build up networks and see what they can do together in the future.," says Wu Qunfang, a second-year PhD student from Syracuse University in the United States.
Wu and her professor Huang Yun won the Lee Dirks Award for Best Paper for their paper, which is the highest honor at this year's iConference.
Wu says that she is encouraging more Chinese students to attend international conferences.
"There are many new topics emerging from China and the US. And if they (researchers from the two countries) can work together, their collaboration is likely to yield positive outcomes."
The event, hosted by the iSchools organization, is an annual gathering dedicated to advancing the field of information technology and preparing students to meet new challenges.
The iConference is of a consortium of 91 information schools worldwide, including the University of Toronto, the University of Melbourne and the University of Washington.
"It's one of the top conferences covering research in library and information science," Wu says.
Last year, the iConference was held at Wuhan University, the first time it was held in China. And next year, the University of Maryland will host the event.
Meanwhile, Lu, who hopes to participate in next year's event, says: "I have learned to delve deeper and be more confident and articulate during my presentations. I want to attend next year's conference, not only to broaden my horizons, but also to gain inspiration for future research."
Contact the writer at zhangzefeng@chinadaily.com.cn