Parents Opt For Overseas Trips And 'education Through Entertainment'
A growing number of families are sending children on study tours in foreign countries, as Zhao Xinying reports.
Since September, when her daughter enrolled in primary school, Amy Chang has been researching study tours overseas.
The Beijing resident had often considered sending the girl on a weeklong tour of foreign campuses, but had never taken any action, believing her daughter to be too young to deal with any problems she might encounter during a trip.
"She is now turning 7 and has been learning English for four years. I believe she could take care of herself and communicate with people effectively during a week overseas," Chang said.
A growing number of parents are thinking the same way. A report published recently by online travel agency Ctrip shows that at least 800,000 overseas study tours were booked for Chinese children during the summer vacation, a 70 percent rise from the same period last year.
Each tour cost an average of 25,000 yuan ($3,770) per person, and most were booked by middle-class families in large cities for pre-high school children, according to the report. About 13 percent were booked for children ages 3 to 6, while those ages 7 to 12 accounted for 31 percent.
"Because the kids learn things while travelling, many parents regard study tours as a good way of providing education through entertainment, which they believe will broaden their child's horizons and improve their language and communication skills," said Zhang Jie, director of the study tour department at Ctrip.
While the United States and the United Kingdom have long dominated the list of popular destinations, countries in Africa, South America and Southeast Asia have been visited more frequently in recent years.
Added bonuses
Zhang Chao, general manager of a study tour agency in Nanning, Guangxi Zhuang autonomous region, said a typical overseas tour lasts one to two weeks and consists of visits to prestigious schools and well-known scenic spots.
He believes tours should supplement and expand what the students learn in class, and how they learn. For example, when the agency takes students to a museum overseas, it doesn't employ tour guides.
"Instead, we ask the kids to conduct their own research and explore the museum on their own, and then we ask them to introduce the area to each other. In this way, we help them to make full use of the tour to learn, and to improve their language skills," he said.
Chang plans to send her daughter to the US for her first study tour, because the country has excellent primary schools where her daughter will be able to communicate in English and learn about the thoughts and lifestyles of foreign children of her own age.
"A trip like this might inspire her and could help her development," she said.
Although a host of travel agencies and private educational institutions provide tours, Chang is considering a trip organized by her daughter's school, either during the upcoming winter vacation or next year's summer vacation.
"Compared with travel agencies or private organizations, I have more trust in the school's ability to ensure the children's safety and strike a good balance between study and travel," she said. "The cost - about 30,000 to 40,000 yuan - is reasonable, and definitely within my budget."
Parental guidance
Some wealthier parents are taking their children on study tours themselves.
In September, Su An, a housewife in Beijing, took her 5-year-old son to Europe.
Unlike many Chinese who head overseas for sightseeing and shopping, Su was motivated by her son's love of art. He has studied painting for two years, so she took him to museums and galleries, including the Louvre Museum in Paris and the Picasso Museum in Barcelona, Spain.
Although the 10-day trip cost nearly 70,000 yuan, Su said it was worth it.
"Since returning, Ming Ming, my son, has often tried to make copies of the masterpieces he saw in Europe," she said, proudly, adding that she is planning another trip to consolidate his progress.
"His painting teacher told me that he has made the greatest progress ever since he came back from the tour," she said.
Ming Ming said the paintings overseas were different to those he had seen in China." They were beautiful," he said. "I can't describe what the differences are, but I loved looking at them."
Su disagrees with people who think she wasted time and money because Ming Ming is too young to understand the things he saw.
"From my own experience, many things I read, saw and felt in my early childhood stayed in my memory for a long time," the 35-year-old said. "So I believe that although my son did not fully understand or remember all the things he saw, some feelings he had during the trip will stay with him and influence him as he grows up."
Peer pressure
However, not all parents - even high earners - are like Su, who is happy to absorb the cost of study tours.
During the summer vacation, a WeChat article about a woman in Guangzhou, Guangdong province, who complained about the high cost of her daughter's education went viral thanks to its resonance among parents.
The woman said she had spent 35,000 yuan on educational activities for the girl during the summer, with most of the expenditure related to a 10-day study tour in the US.
Faced with rising peer pressure among other parents who spend generously on extracurricular education, the woman, a senior manager who earns more than 30,000 yuan a month, felt she had no choice but to splash out.
As a result, she was forced to cut down on her own expenses - for example, she had to stop buying new clothes - and also had to work harder to earn more money to support her daughter's interests.
Xiong Bingqi, deputy director of the 21st Century Education Research Institute in Beijing, said it's understandable that all parents try to help their children gain life advantages and study at all costs, but some fail to look at the matter rationally.
"They book very expensive tours for their children without fully considering the family's financial situation or the child's needs and interests. They just don't want to lose face with other parents," he said.
"Tours booked this way won't help a child's development. Instead, they are more likely to make the parents anxious and increase the financial burden on them."
Chu Zhaohui, a researcher at the National Institute of Education Sciences, said expensive overseas study tours can contribute to a child's development, but not as much as many parents imagine.
"Most study tours are quite short and may leave little impression on children, particularly younger kids," he said.
"Going on a study tour overseas is not a necessity for a child's development and could definitely be replaced with other activities. Parents needn't feel downhearted if they can't afford such tours."
Domestic tours
Some parents actively avoid trying to "keep up with the Joneses", and are finding other ways to help their children.
Wang Haifeng, who works for a State-owned enterprise, said rather than register her son, a sixth grader in Beijing, for an intensive, tiring study tour that requires travelling to a distant country, she would prefer he stayed at home to rest or participated in relaxing activities nearby.
In August, she sent her son on a tour to Baiyangdian, Hebei province, with a dozen children of similar age. During the three-day trip, they conducted research into the quality of the local water.
When he returned home, her son produced a report in which he detailed the things he had seen, felt and discovered on the tour.
"The trip cost just 1,000 yuan, but my son gained as much as he would have on a trip overseas, which might be 20 times more expensive," she said.
A survey conducted by iResearch, a consultancy in Beijing, showed that children participated in 2.6 million domestic study tours last year.
In December, the Ministry of Education, along with 10 other ministries and commissions, released a series of guidelines to encourage primary and middle schools to organize educational excursions for students.
Many industry insiders saw it as an opportunity to further develop and tap the market potential.
Zhang Jie said bookings on Ctrip for domestic study tours during the summer vacation rose by 140 percent compared with last year, with each tour costing an average of 4,000 yuan.
"That figure is definitely set to rise in the future," she said.
Contact the writer at zhaoxinying@chinadaily.com.cn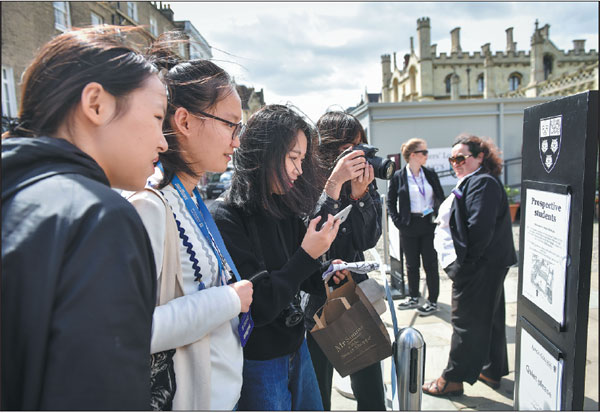 Chinese students on a study tour to the United Kingdom gather at the gate of King's College, Cambridge University.Tan Xi / For China Daily