Africa ready for 'the new technology wave'
Experts say that lack of infrastructure need not be a problem, but offers a springboard instead for upgrading continent
Despite low internet penetration and lack of infrastructure in much of Africa, the fourth Industrial Revolution promises to bring opportunities to Africa that will increase the continent's participation on the global stage.
In fact, experts say, these deficiencies could offer a springboard for the continent to leapfrog other regions that have been struggling to catch up.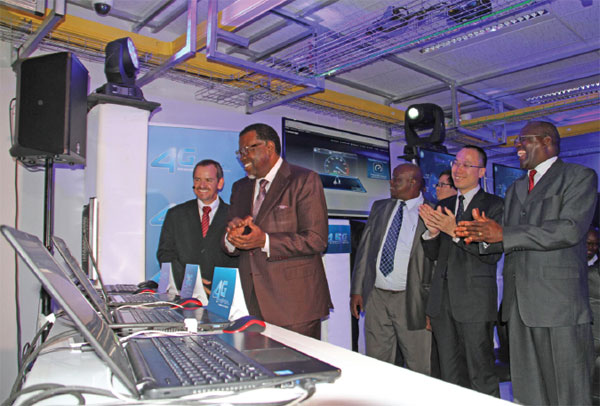 Chinese tech company Huawei Technologies Co tests Africa's first 4.5G network in Namibia in April 2016. Namibian President Hage Geingob (second from left) attended to witness the tests. Wu Changwei / Xinhua
The fourth Industrial Revolution and its impact was extensively discussed during the World Economic Forum in Dalian, China, in late July. It is characterized by the adoption of cutting-edge technologies such as artificial intelligence, the internet of things, autonomous vehicles, 3-D printing and nanotechnology to increase efficiency and improve living standards.
Fast internet connectivity and a large number of users with access to it are crucial factors that Africa still lacks. According to Internet World Stats, there were an estimated 388 million users in Africa in June this year - 31.2 percent penetration - representing 10 percent of total world users. This compares with the world average of 51.7 percent penetration.
"We have only recently rolled out 4G technology," says Abdoulkarim Soumaila, secretary-general of the African Telecommunications Union, adding that many countries are still using 2G and 3G. "Deployment of this technology depends on the needs of individual economies. Some countries only have 15 percent of their population accessing the internet," says Soumaila from his offices in Nairobi, Kenya.
He says development of IT infrastructure in Africa has been held back by a lack of energy resources. Statistics show that the continent has an average electrification rate of 24 percent, while the rate in the rest of the developing world is closer to 40 percent.
"Most operators have had to develop independent power installations to complement and boost their reach. In some countries, transport infrastructure is poor but fiber cables have been laid," says Soumaila. "This has catalyzed development in some rural areas, thus bringing the population closer to accessing government services."
He credits these developments to Chinese-based telecommunication companies such as Huawei and ZTE, which have been instrumental in the development of this infrastructure, particularly in Kenya.
"The IT sector has been dominated by the private sector. This has reduced inefficiencies. It has also fueled innovation and entrepreneurship, especially in Africa's youthful population."
Erik Hersman, a renowned technologist and the brains behind iHub, one of the first IT incubation companies in Kenya, says the low internet penetration rate in Africa offers a big consumer market for Chinese companies.
"At first glance, you'd think that with low internet penetration this would leave Africa as a whole far behind. Though we are behind on some of the core infrastructure for the internet, and behind on the percentage of people online compared with the rest of the world, we're starting to see how new technologies like (internet of things, artificial intelligence and virtual reality) will come into their own here.
"For instance, at BRCK (a hardware company at which he is CEO), we've been working for two years in the IoT space with our sensor connectivity device. It turns out that there are a number of medium-sized and large organizations that need to track expensive equipment, agricultural environments, water issues and many other things. All of this requires the internet. It's available now and these companies are willing to pay for it. As this data continues to grow, AI will have a great amount of influence by enabling better, faster and smarter decisions."
He says great attention will need to be paid to the education sector to prepare the young population for emerging jobs created by the fourth Industrial Revolution.
According to Bernard Shibwabo, research director on the information technology faculty at Strathmore University, Kenya, the IT divide between developed and developing countries is small.
"With new technologies, in countries such as South Africa, Egypt, Nigeria and Kenya, where there are fast internet speeds, it is simpler to learn and adopt when it comes to hardware. There is no gap. Africa is ready to face the new technology wave."
While conceding that Africa has unique challenges compared with developed markets, he says this has enabled the continent to develop unique solutions that have been embraced and adopted globally. "The best example still remains the mobile money transfer platform. This has, in addition, offered more job opportunities, despite being disruptive."
He says Africa will not grapple with challenges such as infrastructure, but will instead be able to develop solutions around them. He points to the use of drones in transporting lifesaving blood to remote areas in Rwanda that have been cut off by harsh terrain. "Africa will soon become a big consumer market for China's technology. This means that we will see more trade between the two partners. Moreover, the continent may satisfy China's appetite for cutting-edge innovation."
lucymorangi@chinadaily.com.cn