Answering the call of Africa
At great personal cost, researcher has striven to provide Ethiopians with knowledge to improve their lives
For many Chinese, Africa is a continent that is not only far away, but also strange and wild. He Wang, however, has spent most of her time there for more than a decade and has just left her 92-year-old mother to travel there for the eighth time. Each of her visits to Africa has lasted more than 10 months.
While He was busy preparing her luggage for her latest visit, at home in Hunan's provincial capital of Changsha, her mother came to her constantly. It seemed that the older woman intended to say something - but she never opened her mouth.
"Last time when I was about to head for Africa, she sighed to me that she doubted if she would see me again the following year," says the researcher from the Hunan Institute of Aquaculture Research.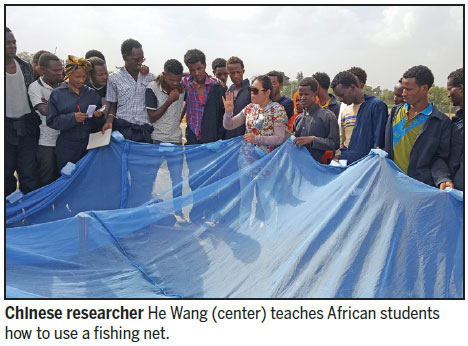 He, however, was determined to continue her unfinished task of helping Ethiopia develop aquaculture to contribute to the country's development.
Even during her stay of more than two months at home, she often stayed up until the middle of the night drafting the first-ever fish production textbook for Ethiopia. He, 53, says she has almost finished the draft and expects to use it in her teaching this year.
As well as the textbook, as ever, she took a lot of other things with her. She had four big suitcases this time, containing daily necessities, kitchenware, teaching aids and gifts for friends at Alage Agricultural Technical Vocational Education and Training College, where she works.
"Each time I leave, I take with me as many things as possible, since it is difficult to buy some items because of shortages there," she says.
When she is at the college, the nearest town for buying daily necessities is Bulbula, 50 kilometers away, while Addis Ababa, the capital, is an additional 190 km to the north. Vehicles are rare on the unpaved road from the college to Bulbula and always create a cloud of thick dust.
When He started teaching there in 2013, she was astonished to find she had to start from scratch, as there were no textbooks, teaching or experimental facilities available for her on the 4,200-hectare college campus. Students had to travel to a farm more than three hours away for practical experience.
With no machinery or experienced engineers, she spent four months building a 200-square-meter fish pond 1.5 meters deep with her students and colleagues. The project led to He being given the nickname "The Iron Lady".
A total of 13 fish ponds have now been built at the college. Students also have equipment including microscopes and pH test strips that she supplied.
Before "The Iron Lady" went to Alage, she had also worked at Holeta ATVET College. She arrived there for the first time in 2003. In 2009, she also went to Zimbabwe for a year to contribute her expertise.
Though Holeta is only 40 km away from Addis Ababa, life there was hard. Without phone service, it was difficult to get in touch with family and friends. The water supply was unreliable, and horse-drawn vehicles were needed for the journey to buy vegetables.
Wild animals and insects were a problem. Once when He was reading books on her bed in the evening, she suddenly found ants on the windowsill of her room. She tried to drive them away but more came, and eventually there were ants almost everywhere - on the ceiling, on the bed and on the floor. She had to spend the night on a sofa.
"One of my Chinese colleagues even suffered depressive disorders because of the difficulties in carrying out work and the inconvenience in everyday life," she recalls.
So far, He has helped Ethiopia to educate more than 1,000 aquaculture students, and many of them have become the backbone of the country's agricultural development. In July, she was granted an award by the Ethiopian government.
With her recommendation, one of her colleagues received his master's degree in genetic engineering at South China Agricultural University and is preparing to apply to continue his studies in China. She says the colleague "tells me a magazine in the United States will probably publish one of his papers, which will help him a lot to continue studying in China".
However, He feels sorry for her family, since she has spent very little time with them in recent years. Last November, she had to leave for Ethiopia in the evening of the day when her daughter's wedding ceremony had been held. But her family has been very supportive of her work, she says.
"She did all the things responding to the call of the country. They are of great significance. We all support her," says He's husband, Zou Zhongyi.
houliqiang@chinadaily.com.cn