Thailand grieves in farewell to late king
BANGKOK - With solemn faces and outright tears, millions of black-clad Thais said farewell to their king and longtime father figure on Thursday, capping a year of mourning with funeral ceremonies steeped in centuries of tradition.
The ceremony for King Bhumibol Adulyadej, who was once the world's longest reigning monarch, began late on Wednesday, just over one year since he died at age 88 on Oct 13, 2016.
Members of foreign royal families and senior officials from dozens of nations, including Vice-Premier Zhang Gaoli, special envoy of President Xi Jinping, attended the ceremony at Sanam Luang.
Three processions involving the royal family, thousands of troops, a golden palanquin, a gilded chariot and a royal gun carriage transported a ceremonial urn representing King Bhumibol Adulyadej's remains from the Dusit Maha Prasad Throne Hall to a spectacular newly built crematorium.
The urn, placed under a nine-tiered white umbrella and accompanied by a palace official, was then hoisted into the main chamber of the golden-spired crematorium as monks chanted, traditional instruments wailed and artillery fired in the distance.
King Maha Vajiralongkorn then climbed the red-carpeted steps to light candles and incense in honor of his father. The ceremony was watched in person by more than 300,000 mourners and millions more around the kingdom in broadcasts aired live on most Thai TV stations.
Before dawn, 63-year-old Somnuk Yonsam-Ar sat on a paper mat in a crowd opposite the Grand Palace in Bangkok. Her granddaughter slept in her lap and her husband rested his head against a metal barrier. The family came from the coastal province of Rayong, where they run a food stall.
Somnak waved a fan to cool herself but said she was not tired. "I feel blessed to be able to sit here, and be part of this. It's an important day for us."
Boonjerd Buasawat, a 61-year-old fruit vendor from the resort island of Phuket, waited near the cremation site since midday on Wednesday and slept there overnight.
"I want to be here together with a group of people who dearly love their king. Our love won't die until we too pass and follow him," he said.
Ap - Xinhua - Reuters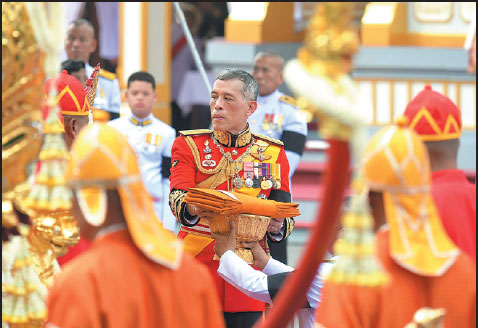 Thailand's King Maha Vajiralongkorn takes part in the funeral of his father, the late King Bhumibol Adulyadej, in Bangkok on Thursday.Kittinun Rodsupan / Associated Press