Prefab technology is cornerstone of South Africa project
China Minsheng Drawin Technology Group, a unit of investment conglomerate China Minsheng Investment Group, has launched the John Dude New City project in South Africa's Gauteng province.
The project marks CMIG Drawin's entry into Africa's affordable housing market, as well as the introduction of its prefabricated-construction technology to the continent to help improve sustainable-development city construction in Africa.
CMIG Drawin will build 18,000 affordable homes, public leasing houses and commercial properties with an aggregate value of 17 billion rand ($1.28 billion) over the next 10 years in the John Dude New City project, one of 31 Mega City Projects launched in Gauteng that will improve infrastructure and create jobs for local residents. The entire project will include properties built using CMIG Drawin's prefabricated-construction technology in an area of around 500 hectares, with total planned investment of $2.45 billion.
CMIG Drawin will send only management and technical experts for the project; 95 percent of the employees will be local residents.
The large-scale projects in South Africa are an example of the urbanization in countries participating in the Belt and Road Initiative. The World Bank reported earlier that Africa is experiencing a rapid urbanization process and that the urban population, currently 472 million, will reach 1 billion by 2040.
"We feel extremely honored to be able to participate in South Africa's project to build more affordable housing," says Yin Jun, chairman of CMIG Drawin. "This feeds into our mission to build partnerships with BRICS countries, and is an affirmation of CMIG Drawin's leading technology, which will be adopted in more projects in South Africa and in other overseas markets."
David Makhura, governor of Gauteng province, says: "The commencement of John Dude New City signified the official activation of large-scale urban projects in Gauteng. It will bring ever-increasing improvement to local residential district and space planning in order to achieve modernized and reindustrialized transition in our province."
Prefabricated construction allows standardized building parts to be made on production lines before being moved to construction sites for assembly.
Compared with traditional construction methods, prefabricated construction is considered to be much more efficient, productive and environmentally friendly, making it ideal for addressing South Africa's housing shortages with the promise of greatly shortened construction time.
To better serve construction projects in South Africa, CMIG Drawin has signed framework agreements with subsidiaries of French construction group Vinci to jointly develop the prefabricated-construction industry in South Africa, with John Dude New City being one of their first partnership projects.
Vinci, ranked by Forbes in 2017 as the biggest listed construction company by market value, will also adopt CMIG Drawin's prefabricated-construction technique in other countries such as the Netherlands and New Zealand.
panzhongming@chinadaily.com.cn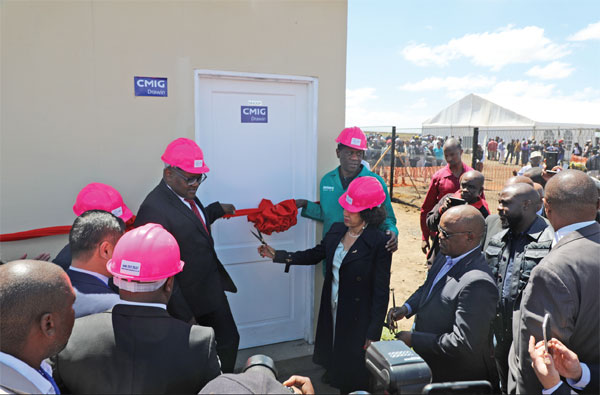 Lindwe Sisulu, minister of Human Settlements, cuts the ribbon for the sample house built by CMIG Drawin.