Used car sales hit a million a month
Neglected sector now in the spotlight, with China Auto Dealers Association predicting 20 percent annual growth
China's used car sector has long been biding its time, but is now switching into the fast lane.
A total of 1.05 million used cars were sold in August, a 21 percent increase year-on-year, according to statistics from the China Auto Dealers Association. It has been the third consecutive month that such car sales exceeded 1 million.
In the first eight months, 7.89 million used cars were sold, a 20.85 percent rise year-on-year. Revenue totaled 529 million yuan ($80 million), surging 44 percent from the same period last year.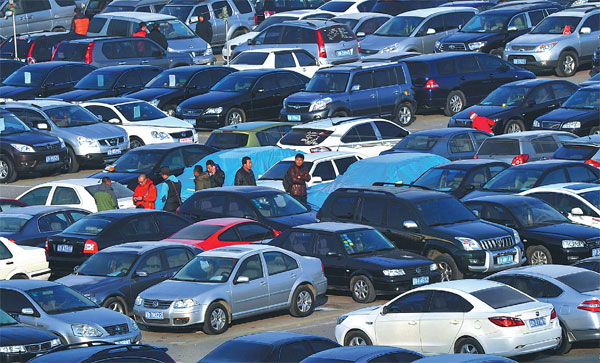 Customers choose vehicles at a used car market in Dalin, Liaoning province, where all used cars outside the province should pass a quality inspection. Liu Debin / For China Daily
The CADA expects the year's growth rate to hover around 20 percent, with sales to reach 12 million vehicles. China saw 10.39 million used cars sold last year, 10.41 percent growth year-on-year.
Industry insiders said the rise is the result of a combination of factors, ranging from favorable policies and easier online trading, to improved behavior in the market.
The used car sector had been notorious for the lack of information transparency. But starting from 2015, the CADA has been promoting used car certification by third parties to improve the situation.
"Credibility is the most important factor for the used car sector to see sustainable development," said Shen Jinjun, president of the association, at the country's used car assembly earlier this year.
Many brick-and-mortar companies are making their own efforts too.
The Shanghai Used Car Trade Center is home to about 100 car dealers. To attract customers, the center has introduced its own quality assurance system with the help of third-party quality assessment organizations.
"Each day, the cars are examined before they are admitted into the center and the information is made public on our website," said Cai Zhongmin, general manager of the center.
Online used car dealers such as Guazi are doing an even better job. The company said cars on its website have undergone 259 different kinds of tests and customers can get their money back within 14 days.
Xu Wei, CEO of Che300, said he is planning to offer a function that will help visitors to find what cars they need by asking them several questions.
"The main function of big data is the ability to find out what you want based on information you provide."
The rise of online used car dealers and their ever-present commercials are helping to renew people's understanding of used cars.
A representative from Guazi said the company has spent 2 billion yuan on advertising since its establishment. Besides making it a household name, this has improved people's awareness of developments in the sector as a whole, he said.
The booming sector is attracting more capital. Didi Chuxing, China's largest ride-sharing company, has recently announced plans to invest $200 million in Renrenche, another online used car dealer.
Didi will work with Renrenche in product, technology, operation and business planning.
Luo Lei, deputy secretary-general of the CADA, said the market itself has become more mature in recent years.
As the hurdles are gradually removed, used car sales are expected to hit 20 million vehicles in 2020, doubling the 2016 level, said Luo, quoting PricewaterhouseCoopers' estimates.
Xiao Zhengsan, the CADA's secretary-general, said he believes that the booming sector can also help to stimulate new car sales, which have been slowing down in the Chinese market. He said more people will be able to buy new cars after they sell their used ones.
"We now have some 200 million cars on the road. If used cars don't sell, we are not going to see rises in new car sales. They are very closely related."
Despite its boom, China's used car sector has a long way to go compared to developed markets. A total of 7.89 million used cars were sold from January to August, 45 percent of total new car sales in the same period. Used car sales are usually more than double those of new cars in developed markets such as the United States.
lifusheng@chinadaily.com.cn