Good for China - and good for Africa
Asian giant improves competitiveness ranking and its investment is boosting continent's standing
Latest data from the World Economic Forum's global competitive report 2017-18 indicates that the Chinese mainland is steadily pushing forward its global economic competitiveness, while Hong Kong and Taiwan are making huge gains in a difficult global market.
Although the mainland maintained its place as the largest market in size for the past three years and continues enjoying robust economic growth, the Hong Kong Special Administrative Region made a significant leap up the ranks from ninth last year to sixth. It is now ahead of Sweden (seventh), the United Kingdom (eighth) and Japan (ninth).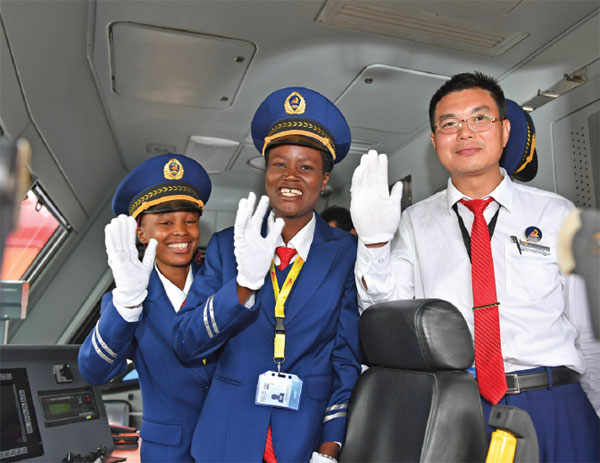 Kenya inaugurated its diesel-powered standard gauge railway from the port city of Mombasa to the capital, Nairobi. Sun Ruibo / Xinhua
"It has made the largest leap among the top 10 economies, which in turn are supported by strong and stable financial markets," says the report. It attributes the large leap to the mainland's physical infrastructure and healthy level of competition and openness, which it says ensure efficient markets.
The report also praises Hong Kong's labor market, which is highly flexible and efficient, and an advanced macroeconomic environment that slightly lowered its inflation rate last year.
The Geneva-based WEF's report attributes the Chinese mainland's overall competitive score to gains made in technological readiness, occasioned by higher information and communication technology penetration and the extent to which foreign direct investment has been bringing new technology to the country.
However, greater investment in the sector is encouraged to push forward productivity that has been slowing down in the Asian region, it says. China presented the best case study, it adds.
"For instance, greater access to mobile technology in China has fostered the expansion of the 'sharing economy', which is expected to reach 10 percent of GDP by 2020," the report says.
The Chinese mainland is ahead of India and Indonesia in technology and innovation. However, Brazil and Turkey, which according to the report showed great potential in the early 2000s, have lost ground.
"Other sources confirm the growing importance of China and India as centers of innovation. In a recent study on which geographical clusters are generating the most patents, Shenzhen-Hong Kong comes in second place - between Tokyo-Yokohama and San Jose-San Francisco - while Beijing comes in seventh. In both cases, activity is concentrated in the field of digital communications.
Three Indian locations appear in the top 100 of the cluster study: Bengaluru at 43rd (with patent activity focused on computer technology), Mumbai at 95th and Pune at 96th (both registering among the most patents in organic fine chemistry), the report says.
Taiwan was ranked 15th overall, ranking high on innovation.
The Global Competitiveness Report 2016-17 assesses the competitiveness landscape of 137 economies, providing insight into the drivers of their productivity and prosperity.
Meanwhile, despite subdued economic growth in sub-Saharan Africa, its countries recorded slight improvements in their overall competitiveness.
Experts attribute this to recent infrastructure expansion, especially in countries that have strong Chinese presence - Ethiopia, Tanzania and Uganda. The report also notes improvement in health, technological readiness and business sophistication.
Including Senegal, the report praises the four countries for improving their performance for five consecutive years since 2010.
"The most improved African countries year-on-year are Madagascar (121st, up seven places), Gambia (117th, up six), Kenya (91st, up five), and Senegal (106th, up six), thanks either to an improved macroeconomic environment (Madagascar and Senegal) or to the efficiency of goods, labor, and financial markets (Gambia and, to a lesser extent, Kenya), the report says.
Tanzania moved up three places, from 116th last year to 113th, while Uganda retained its position at 113th.
"These are countries we have seen strengthen their trade and investment relations with China over the recent past, particularly in the infrastructure sector. I am sure that the expansion and modernization projects that have recently been completed have ultimately improved the region's attractiveness to foreign direct investment," says Robert Kagiri, director for the Centre for Strategy and Policy Management at the Africa Policy Institute, an economic policy think-tank based in Kenya.
In October last year, Ethiopia launched an electric train service that links its capital, Addis Ababa, with the Red Sea port of Djibouti. Kenya inaugurated its diesel-powered standard gauge railway from the port city of Mombasa to the capital, Nairobi. It is expected to extend to Uganda, Rwanda and the Democratic Republic of Congo.
Kagiri says that China's policy in areas such as trade, climate change, politics and security has seen countries in Africa, which agree with President Xi Jinping's vision, align themselves closely with China.
"The East African countries that have seen remarkable improvements, such as Kenya and Ethiopia, host mega infrastructures partly funded and wholly developed by the Chinese. This has not only significantly bridged Africa's infrastructure deficit, but has strategically positioned these countries' economies to benefit from China's ambitious Belt and Road Initiative," says Kagiri.
The Global Competitiveness Report ranking is based on the Global Competitiveness Index, which was introduced by the WEF in 2005. Defining competitiveness as the set of institutions, policies and factors that determine the level of productivity of a country, GCI scores are calculated by drawing together country-level data covering 12 categories - the pillars of competitiveness - that collectively make up a comprehensive picture of a country's competitiveness. The 12 pillars are: institutions, infrastructure, macroeconomic environment, health and primary education, higher education and training, goods market efficiency, labor market efficiency, financial market development, technological readiness, market size, business sophistication and innovation.
lucymorangi@chinadaily.com.cn