Giant SME fair draws players from around the world
The 14th China International Small and Medium Enterprise Fair, opening on Oct 10 in Guangzhou, has according to its organizers boosted partnerships and communications between global SMEs.
The annual fair - held in the Poly World Trade Center Expo in the capital of Guangdong province in southern China - aims to advance comprehensive strategic partnerships and promote the inclusive and sustainable development of SMEs in China and in other countries.
Zhang Feng, Party committee member and chief engineer of the Ministry of Industry and Information Technology, said the event was a bridge to help Chinese SMEs go global and for foreign SMEs to access Chinese markets.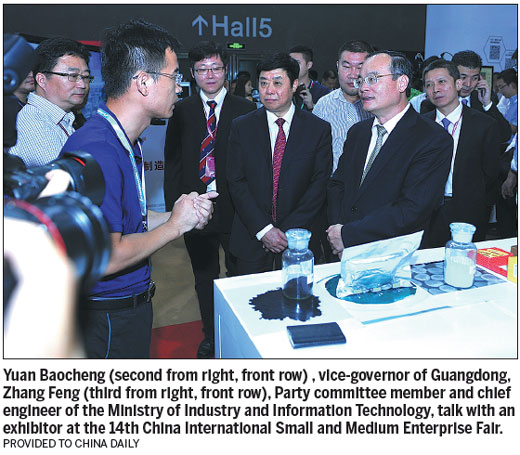 "With the new technology revolution and industry transformation, SMEs are facing new development opportunities," Zhang said.
Yuan Baocheng, vice-governor of Guangdong, said SMEs contributed significantly to the transformation and upgrading of Guangdong's industries.
"Guangdong will reduce the costs of managing companies, support the transformation of technology and promote the construction of services-oriented government, to provide a good developing environment for SMEs," Yuan said.
The massive fair is being hosted by the Ministry of Industry and Information Technology - as well as the State Administration for Industry and Commerce, the Guangdong government, the department of Small Business Development in South Africa and the United Nations Industrial Development Organization.
Organizers said this year's event has attracted 6,282 exhibition stands for 2,925 global companies from South Africa, Egypt, India and more than 30 countries and regions, to display their products.
Serving as a co-host of the fair for the first time, South Africa has brought over more than 50 companies - covering services, agriculture, renewable energy, tourism, jewelry and the food sectors - to showcase the diverse nature of its economy.
Under the framework of the Forum on China-Africa Cooperation and the BRICS cooperation mechanism, the joint hosting of the event is seen further promoting practical partnerships between China and South Africa in industry, trade and economics.
South Africa's Minister of Small Business Development, Lindiwe Zulu, said her country's participation in the fair was a tribute to its entrepreneurs who lobbied hard.
"It is a significant milestone in our collective journey towards building a nation of entrepreneurs," she added.
Asia-Europe meeting
A highlight of the fair is the Asia-Europe Meeting, or ASEM, seminar on multi-dimensional support for financing SMEs.
"SMEs have become the pillar of economic development in Asian and European countries and their most innovative and dynamic enterprise group," said Zhang Feng at the seminar.
Estimates are that SMEs account for 99 percent of China's total number of enterprises. They also contribute 60 percent to the nation's GDP, 50 percent of its tax revenues and responsible for 80 percent of jobs.
But it's difficult and expensive to finance SMEs. To solve the problem, China's government set up a 60 billion yuan ($9.1 billion) development fund to support startups, Zhang said.
Liu Qiang, vice-president of the Bank of China, said that BOC had created a services model for SMEs and cross-border SMEs - and a credit approval process that responded to the risks and financing characteristics of SMEs.
The China SME Summit is another highlight of the fair. The aim of the summit is to organize and mobilize society to support micro, small and medium enterprises.
With the theme of "new thinking, new motivation and new manufacturing", the summit invited Chinese and South African officials, leading economists and representatives of entrepreneurs, to exchange views on measures to support SME development.
Edith Vries, the director general of South Africa's Department of Small Business Development, said that her country wanted to ensure economic and industrial growth.
It also wanted higher levels of secure investment, to help build up black management, ownership and control in the economy and the creation of decent employment.
caoyinguomg@chinadaily.com.cn