Big names seeking to promote China's tennis education
Increased interest among Chinese fans in both ATP and WTA tournaments is attracting a growing number of big tennis names to the country. But these world tennis stars aren't eyeing the points, trophies or prize money, they're looking to further China's tennis education by using their fame and experience to teach the next generation.
Hot on the heels of being named the International Tennis Hall of Fame's new global ambassador on Tuesday, Chinese-American tennis legend Michael Chang announced his plans to help the nation's young hopefuls become world-class players.
The 45-year-old, who won 34 top-level professional singles titles including the 1989 French Open when he was just 17, revealed on Wednesday at the China Open that he has partnered with tennis education startup the Love Tennis Academy, becoming the company's ambassador.
Chang aims to provide young tennis-loving Chinese with better access to tennis education.
"For me, China is one of the most successful countries in sports like ping-pong and badminton," said Chang. "I see no reason why tennis should be an exception to that."
Having more Chinese players among the WTA and ATP's top 100 rankings is "a very attainable and realistic goal" that can be realized "with the right guidance, the right coaching, the right support, and a little bit of time," he said.
Chang added that young players should balance tennis training with their formal education, because not everyone is lucky enough to be able to play in top-level tournaments. Young players should think of tennis as a way to open up new opportunities in future, he said.
Rafael Nadal, the "King of Clay" who has 16 Grand Slam singles titles to his name, also wants a better future for China's tennis education.
On Sept 30, the Spaniard participated in a tennis clinic run by his Rafael Nadal Academy at this year's China Open that saw 40 Chinese children, aged 8 and older, train alongside him.
He first brought his tennis clinic to the China Open in 2015 and wants to positively influence the country's tennis future through his partnership with the Love Tennis Academy.
"Of course, China is an important country for us," said Nadal. "We believe that this country has a lot of potential, with lots of players that are going to have the possibility of being at a very high position in the rankings. Through our academy, we're very happy to try and help the development that is surely going to happen here in China."
Nadal echoed Chang that not every young hopeful will grow into a professional player, but said that tennis education can be used to help prepare them for the future.
"We try to work with very good professionals in terms of education and in terms of tennis coaches," said Nadal.
"For us, it is so important to prepare the kids for the future, too. We know most of them are not going to be professional tennis players, so for us it is important to prepare them for the future in terms of values, in terms of education. That's our goal. We are working hard to try to make that happen."
It seems such efforts are having an effect, as the pulling power of the big stars encourages more of China's young tennis talent to pick up a racket. "My hero is Roger Federer," said Zhang Xiaotong, who was brought to the China Open by her father, a line judge at the tournament. "I like him because he can always get key points even when he is under huge pressure."
The 10-year-old has won several national and local junior tennis tournaments, but doesn't have her sights set on becoming a professional player one day. Instead, she said she wants to treat tennis as a hobby.
"Tennis is and will always be my hobby," she said. "It's a good way to relax. Lots of my friends admire me. They always tell me that I look happy when I play tennis."
The girl's parents, who both teach physical education at university level, said trophies were less important than the confidence boost that tennis has given their daughter.
"We thought about letting her receive professional training to become an athlete," said Zhang Dezhi, the father who is also a tennis coach and judge. "But it's too risky. She should balance her school work and tennis. This will give her more options in future."
Wang Kun, the girl's mother, said her daughter was not confident before she picked up a racket.
"She started to play with smaller kids, but she learned so fast. So, as a second grader, she got into the class for fourth grade boys. She cried many times after being defeated by those boys. Now, the boys are no match for her."
Shi Futian contributed to this story.
sunxiaochen@chinadaily.com.cn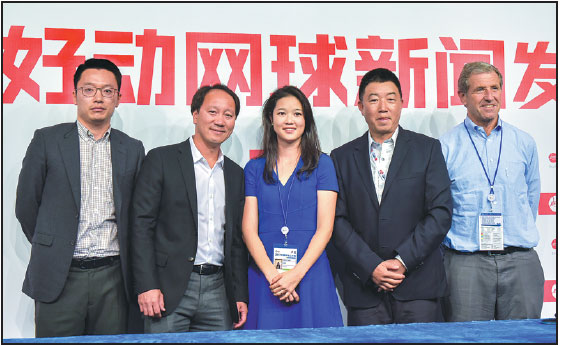 Michael Chang (second left) was named an ambassador of the Love Tennis Academy during the China Open on Wednesday in Beijing. Standing next to Chang is his wife Amber Liu, formerly also a professional tennis player.Provided to China Daily