Xi sends condolences on Las Vegas mass shooting
At least 59 killed, 500-plus wounded at outdoor country musical festival
President Xi Jinping sent a message of condolence on Monday to his US counterpart Donald Trump over the deadly mass shooting in Las Vegas.
Xi said he extended deep sympathy to the US government and people, profound condolences to the victims and sincere solicitude to those wounded.
The Chinese president also wished for a quick recovery of the injured.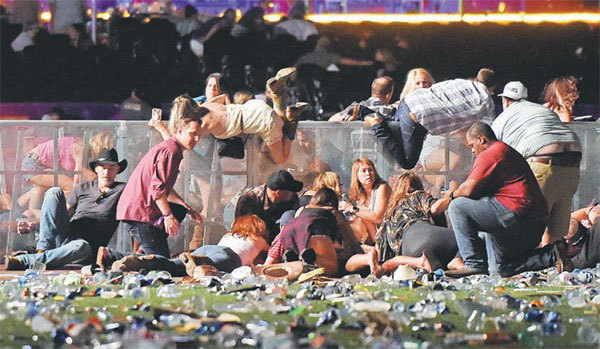 Concertgoers scramble for shelter at the Route 91 country music festival after gunfire breaks out on Sunday in Las Vegas. David Becker / Getty Images via AFP
At least 59 people were killed and more than 500 others wounded when a retiree armed with assault rifles strafed the outdoor country music festival from a high-rise hotel window on Sunday night - the deadliest mass shooting in modern US history.
There's no Chinese casualties by Monday afternoon, according to the San Francisco Consulate General.
The gunman, Stephen Paddock, 64, then killed himself.
The barrage from the 32nd-floor of the Mandalay Bay and Casino Hotel into a crowd of 22,000 came in extended bursts that lasted several minutes, sparking panic as throngs of music fans desperately cowered on the open ground, hemmed in by fellow concertgoers, while others at the edge tried to flee.
More than 525 people were injured - some by gunfire or shrapnel, some trampled - in the pandemonium next to the Las Vegas Strip as police scrambled to locate the shooter.
Police said Paddock lived in a retirement community in Mesquite, Nevada. They said they believed he acted alone, and he did not have a motive.
The Islamic State militant group claimed responsibility for the massacre, but US officials said there was no evidence of that.
At least a dozen people were in critical condition at University Medical Center in Las Vegas, where all of the injured were taken, a spokeswoman said.
The preliminary death toll, which officials said could rise, surpassed last year's massacre of 49 people at a gay nightclub in Orlando, Florida, by a gunman who pledged allegiance to Islamic State.
The dead in Las Vegas included a nurse, a government employee and an off-duty police officer.
Shocked survivors, some with blood on their clothing, wandered streets, where the flashing lights of the city's gaudy casinos blended with those of emergency vehicles.
Police said Paddock had no criminal record. The gunman killed himself before police entered the hotel room from where he was firing, Clark County Sheriff Joseph Lombardo told reporters.
"We have no idea what his belief system was," Lombardo said. "I can't get into the mind of a psychopath."
Lombardo said there were 16 firearms in the room where Paddock killed himself, some with scopes and some that appeared to have been modified to convert them to fully automatic.
Lombardo said the gunman apparently used a "device similar to a hammer" to smash the windows from which he fired.
Police found at least 18 additional firearms, some explosives and thousands of rounds of ammunition at Paddock's home in Mesquite, about 90 miles (145 km) northeast of Las Vegas, along with "some electronic devices that we are evaluating at this time", Lombardo said.
Chris Sullivan, the owner of the Guns & Guitars gun shop in Mesquite, issued a statement confirming that Paddock was a customer who cleared "all necessary background checks and procedures".
"He never gave any indication or reason to believe he was unstable or unfit at any time," Sullivan said.
Efforts to pass tougher US gun laws failed following a number of mass shootings, including the 2012 massacre of 26 young children and educators in Newtown, Connecticut, and the attack on Republican lawmakers in Virginia practicing for a charity baseball game in June.
Nevada has some of the US' most permissive gun laws. It does not require firearm owners to obtain licenses or register their guns.
House of Representatives Minority Leader Nancy Pelosi, a Democrat, on Monday called on House Speaker Paul Ryan to create a select committee on gun violence.
The Second Amendment of the US Constitution protects the right to bear arms. Trump, a Republican, has been outspoken in his support for the amendment.
The White House said on Monday that it was too soon after the attack to consider gun-control policies.
"Today is a day for consoling the survivors and mourning those we lost," White House spokeswoman Sarah Sanders said at a news briefing. "It would be premature for us to discuss policy when we don't fully know all the facts or what took place last night."
Trump said he would travel to Las Vegas on Wednesday to meet with victims, relatives and first responders.
"It was an act of pure evil," said Trump, who later led a moment of silence at the White House in honor of the victims.
Video of the attack showed terrified crowds fleeing under rapid gunfire as the shooter took aim from a distance of around 1,050 feet (320 meters).
"People were just dropping to the ground. It just kept going on. Probably 100 shots at a time," said Steve Smith, 45, of Phoenix, Arizona.
Mike McGarry, a financial adviser from Philadelphia, was at the concert when he heard hundreds of shots.
"It was crazy - I laid on top of the kids. They're 20. I'm 53. I lived a good life," McGarry said.
The back of his shirt bore footmarks from people who ran over him as they fled.
China Daily - Xinhua - Reuters