Restaurateurs learn to survive, thrive in Kenya
Disruption created by voided election has caused trouble, but they are adapting
Henry Tin has been operating a Chinese restaurant in Kenya for about three decades. He was present when the East African country experienced the 1998 bomb blast - about 300 meters from his establishment and partly damaging it. Tin has weathered political elections that have led to sluggish economic growth, and his business has stood the test of time.
This year, however, the landscape is harder, he says.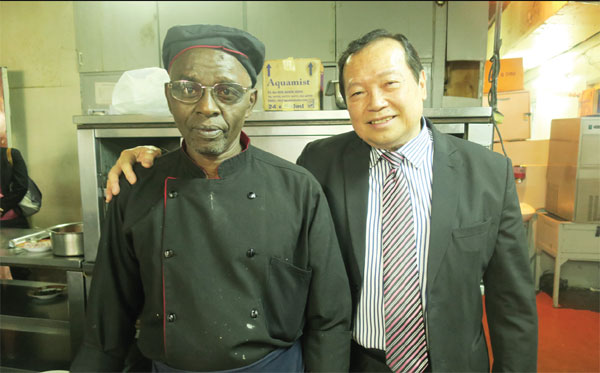 Henry Tin (right), owner of Tin Tin Restaurant in Kenya, with 66-year-old Francis Gitau, who has worked at the Chinese restaurant in Kenya since 1978. Lucy Morangi / China Daily
Traditionally, businesses cool down before and immediately after elections because of uncertainties. The recent general election has, however, been prolonged after the Supreme Court nullified the process held last month. Kenya is preparing to hold a fresh presidential election in October.
"Business is slow at the moment," Tin says. This is not only based on the number of diners walking in daily but also in the number of outside catering contracts, an offshoot business launched 10 years ago.
According to Jamie Pujara, Tin's nephew and business partner, the family made a strategic decision to diversify into outside catering as a supplement. This followed a decline in business due to rapid expansion of Nairobi's downtown, which pushed most affluent businesses and the Asian community - their biggest customer - to the suburbs.
"We debated whether to relocate but decided the location still held an edge in meeting the needs of government offices around us. Since then this business has grown and we can serve up to 2,000 people," Pujara says.
Second, the terrorism attack at the United States embassy 19 years ago saw most embassies - which were based in the central business district - relocate to more secure locations outside the city.
"I felt the reverberations when the bomb went off," Tin recalls. "The restaurant windows caved in. It was not a good time for Kenya."
Despite the tragedy, Tin Tin Restaurant still retained many loyal customers, including Kenya's second president, Daniel Moi, who would walk in at least once a week. Other senior government officials continue to frequent the eatery with their families, saying the Chinese food is unique. Tin says he had to localize the food to please local palates.
"I love the hot chicken wings here," says Francis Ole Kaparo, the second-longest-serving speaker of the National Assembly of Kenya. "I have been coming here since 1988."
Third, the location in the heart of Nairobi and at the Kenyatta International Convention Center, arguably the biggest exhibition space in the country, made Tin Tin Restaurant the preferred caterer for international exhibitors.
"This forced me to be more innovative. I am able to serve Italian, Japanese, Asian and Western dishes," he says.
The strategy has ensured that his business excels amid mounting competition from global fast-food chains such as KFC, Subway and Steers, which are targeting the burgeoning middle-income families.
Many new Chinese restaurants cannot boast of similar advantages, even though they are conveniently located in the affluent suburbs Tin Tin is unable to reach. Many of them have closed down, observes the youthful Pujara, adding that the lean times ahead occasioned by the presidential elections may see a deeper fall into hard times.
"This is especially hitting new businesses hard," he says. There are more than 30 Chinese restaurants in Nairobi alone. Pujara, who has also been dabbling with online businesses, says businesses should adopt the necessary strategies to keep afloat.
First, he advises firms to step up efficiency and consistency. This means that, from the outset, an eatery should be lean and push for productivity.
Synergies across the supply chain should also be strengthened.
"During political elections, supply chains for fresh produce are usually disrupted as people go to rural areas to vote. This trend negatively impacts on the business, which tries to scale down on its stock. So the secret is building reliable relationships with your suppliers and balancing procurement and waste," Pujara says.
More attention should be given to data collection and analysis, he says. There is a low culture of data collection in Kenya, and in Africa at large, but such events strongly indicate that this needs to change, the younger Tin says.
"Businesses need to increase their internet presence and push for more feedback from their clients. This would ensure that the entrepreneurs control the business cycle, even during hard times. At the moment, I think the pricing is too high. Reliable data would address this mismatch to attract customers even during downtimes."
Third is diversification. Many businesses have yet to explore offerings such as home deliveries, Pujara says. "This is a virgin territory to be explored. I think at the moment most diners, who are shying away from walking into restaurants, can be served comfort food at home."
Finally, besides reinvesting in the business, Chinese restaurants should expand their customer bases, according to the senior Tin, who says most restaurants are not innovating their menu and hence are unable to reach potential customers.
He advises businesses to delve more into local delicacies that are yet to gain popularity, especially now when the population has become more diet conscious.
"There is a rapid increase in diseases of unhealthy lifestyles and the health ministry has stepped up campaigns encouraging the masses to consume local, organic foods. It is time to explore this too," he says.
lucymorangi@chinadaily.com.cn