Bradwell B: China's nuclear moment in UK
Success of homegrown tech in Britain likely to open new global markets for power plants
Development at the Bradwell B nuclear power plant in the United Kingdom is progressing smoothly.
Electricite de France SA, or EDF, and China General Nuclear Power Corp are collaborating to develop the new station at Bradwell-on-Sea, on the Essex coast near London.
Bradwell will be built with Chinese third-generation nuclear technology, known as the Hua-long Pressurized Reactor 1000 (HPR1000) with support from the French energy group.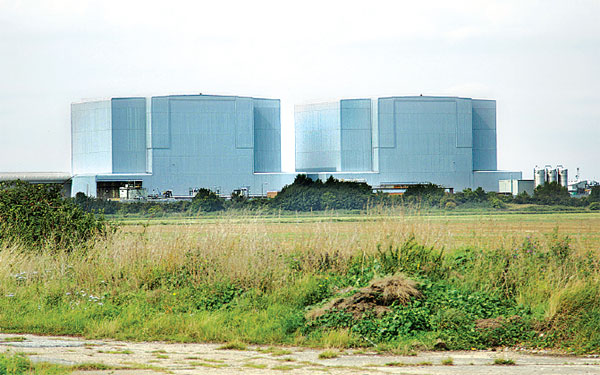 Two decommissioned reactors stand close to where Bradwell nuclear power plant will be built. Yin Jincheng / For China Daily
CGN and EDF are preparing geographical studies of the site where the power generators will be located.
The work includes checking soil conditions and assessing cooling facilities and design strategies to protect the local biodiversity, according to Richard Mayson, director of Bradwell Power Generation Co.
As the first nuclear power plant in a developed economy using Chinese technology, Bradwell is expected to pave the way for the international expansion of the country's nuclear industry.
"Chinese nuclear technology's deployment in a mature economy, such as the UK, symbolizes our nuclear power industry's transformation from 'big' to 'strong'," says Zheng Dongshan, chief executive officer of General Nuclear International, CGN's London-based subsidiary.
China's nuclear industry has grown rapidly over the past three decades. And with the safe and successful completion and operation of plants such as the Daya Bay Power Station in Guangdong province, the country is becoming an active leader globally. It has 36 nuclear power reactors in operation, ranking it fourth in the world after the United States, France and Russia, and another 20 are under construction.
The World Nuclear Association forecasts that in the next 10 to 15 years China will overtake the US as the nation with the greatest nuclear power capacity.
The exact timing of the construction at Bradwell-on-Sea has yet to be confirmed, but preparations are well underway.
In January, the UK's nuclear regulator started a process to review HPR1000 for deployment.
Known as the General Design Assessment, this test is believed to be the strictest in the world. "That means getting the go-ahead will open doors for HPR1000 in more international markets," says Andrew Shepherd, a senior energy and infrastructure analyst at BMI Research.
CGN estimates the assessment will take five years. The first phase, which involves CGN delivering to the British regulator a preliminary safety report for the HPR1000 design, is expected to be completed soon.
"The HPR1000 design enjoys the advantages of both maturity and economic efficiency," says Mao Qing, CGN's chief technical officer in Britain, adding that HPR1000's technology is mature because it builds incrementally on proven technology, instead of incorporating huge quantities of all-new elements.
Its economic efficiency is achieved by simplifying some features relative to other, earlier, third-generation designs, without compromising quality and safety.
Four nuclear reactors in China have been built using HPR1000 technology, two at Fuqing in Fujian province and two at Fangchenggang in the Gunagxi Zhuang autonomous region.
Chinese companies are also actively negotiating deals to build HPR1000 stations in Kenya and Egypt.
Peter Haslam, head of policy at the UK's Nuclear Industry Association, feels CGN is providing huge economic benefits "locally and nationally" through the Bradwell project.
A large number of British nuclear supply chain companies are preparing to bid for contracts.
This will not only bring them immediate financial benefits but also make them a part of the HPR1000 design over the long term, providing further opportunities as China exports the design to other countries.
"We will be approaching CGN as soon as they announce the contract specifications," says Graham Honeyman, chief executive officer of Sheffield Forgemasters, which is looking to secure contracts on forging work for the nuclear power station's pressurizer and steam generator.
British company Amec Foster Wheeler is already working with CGN to provide support for its design assessment work.
Hayward Tyler and China's Shanghai Apollo Machinery have signed a deal to create new nuclear equipment to support HPR1000 in the UK.
The country's National Physical Laboratory and CGN have created a joint research and development center to support HPR1000's localization process.
Alongside the supply chain work, CGN is working with British universities, including the University of Sheffield, to train graduates to work on its projects in China and later in the UK.
Contact the reporters at cecily.liu@mail.chinadailyuk.com