Fashion on upward curve: Plus size model out to prove bigger is beautiful
NEW YORK - For years, images of impossibly slim, gorgeous, blemish-free women have filled fashion magazines, billboards and television screens.
Now, 26-year-old British model Iskra Lawrence is waging war on unattainable beauty standards in the fashion world, flexing her might on a social media fueling diversity.
She is among a growing number of plus size models finding fame and calling themselves body activists, promoting health and wellbeing. She also refuses to allow clients to digitally manipulate any of her images.
"The whole concept of Photoshop is an illusion," Lawrence said during a rare spot of downtime before jetting off on her latest shoot, this time to a windswept beach in Iceland.
"They're not flaws. They're part of your body. We were just convinced by society and the media that there was something wrong with them."
In Britain, around 57 percent of women have an above average body mass index. In the United States, that figure rises to 62 percent, and the average US woman is a size 14-16.
Lawrence averages a US size 10 to 12, yet for years was told she was too fat to model. A sample size on the runway can be as small as zero.
But change is afoot. Ashley Graham, who last year became the first "curve" model on the cover of the annual "Swimsuit Issue" of magazine "Sports Illustrated" is on the cusp of becoming a household name.
First curve model
In February, she became the first curve model to walk for Michael Kors at Fashion Week. This season, she hosted a fashion awards night and Sunday night walked again for Prabal Gurung in a show with Gigi Hadid.
Following repeated scandals about anorexia, French holding companies LVMH and Kering, which own dozens of top labels from Christian Dior to Saint Laurent, days ago pledged to ban size zero models from their advertising and catwalk shows.
Now based in New York, Lawrence jumps on a plane multiple times a week, has starred in campaigns for American Eagle and its Aerie lingerie line, and has close to 4 million followers on Instagram.
Yet if seeing curvier models is more common, it is still relatively rare - particularly in high fashion, where few of the most prestigious labels adequately cater to the plus size market.
"There's still such a long way to go. A lot of people don't want a 'fat girl' in the show," said Jaclyn Sarka, who co-founded JAG Models in 2013, recognizing a need to represent beautiful women of all sizes.
"That's just horrible. I'm having a daughter pretty soon and ... I don't want my daughter to look up to people who aren't attainable."
Agence France-presse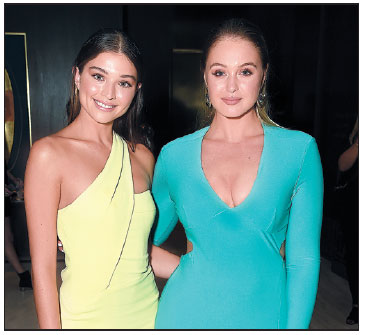 Models Daniela Lopez and Iskra Lawrence (right) attend the Daily Front Row's Fashion Media Awards in New York City last week.Nicholas Hunt / Agence France-presse