Nuclear agencies could face big fines
Unauthorized activities can bring shutdowns as well under new law
Nuclear agencies can now be fined up to 5 million yuan ($762,000; 640,000 euros; £590,000) if they set up nuclear facilities or conduct related activities without authorization, according to the newly adopted Nuclear Safety Law.
If they ignore warnings from the central government supervision authority, they face suspensions or shutdowns.
The law was adopted by the Standing Committee of the National People's Congress, the country's top legislature, on Sept 1, and will take effect in January.
"Not only the nuclear agency but also their officials in charge will face punishment, such as salary deductions," says Tong Weidong, a member of the committee's Legal Affairs Commission.
He says the law aims to ensure nuclear safety and regulate the operation of the industry through stricter punishment.
"Fines sometimes don't work well for nuclear enterprises, as some could earn millions of yuan per day through generating nuclear electricity, so we've decided to expand the punishments," he says.
Meanwhile, nuclear agencies are required to disclose nuclear-related information - including a radiation index of the environment around nuclear facilities and their annual safety report - on local government websites.
In addition to more transparency, stricter supervision and heavier punishments, "it's more important to increase the public's knowledge of nuclear safety", says Guo Chengzhan, deputy director of the National Nuclear Safety Administration.
Nuclear agencies are encouraged to cooperate with schools to provide nuclear safety training, while distributing nuclear safety materials and related rules in public places, he adds.
On Sept 1, legislators also voted and passed the National Anthem Law, which stipulates that people who distort or disrespect the national anthem, or maliciously change the song's lyrics or music, will face up to a 15-day administrative detention. More serious cases may involve criminal punishment, according to the law.
The law, which will take effect on Oct 1, clarifies nine situations in which people should use or play the anthem, such as in important sports or diplomatic events, or in ceremonies for government department conferences.
It also states the anthem should not be used as a trademark, in advertisements or as background music in public places, and it cannot be broadcast at private funerals.
caoyin@chinadaily.com.cn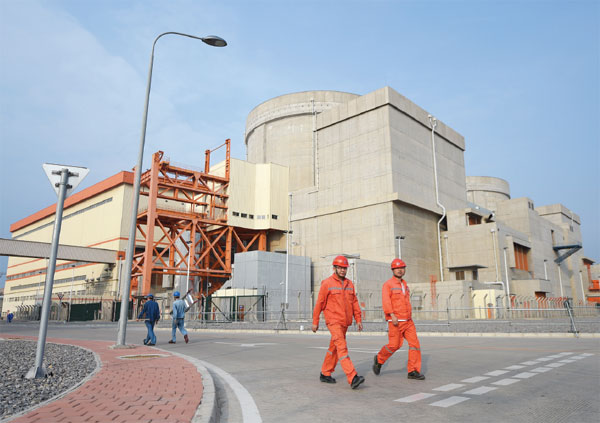 Hongyanhe Nuclear Power Plant in Donggang town, Wafangdian, Liaoning province. The Standing Committee of the National People's Congress adopted a new law recently to ensure nuclear safety and regulate the operation of the industry through stricter punishment. Pan Yulong / Xinhua