Combustible ice heralds clean energy
China gains edge for commercial production after sustained trials
China's success in mining gas hydrate in the South China Sea is a breakthrough that could revolutionize the global energy industry and prove more significant than the United States' shale gas, experts said.
The gas hydrate, commonly known as combustible ice, is perhaps 15 years away from commercial use, but its successful mining in China is a breakthrough nonetheless, says Lu Hailong, a professor at the Institute of Ocean Research, which is part of Peking University.
Lu was the chief scientist for the first mining trial for gas hydrate.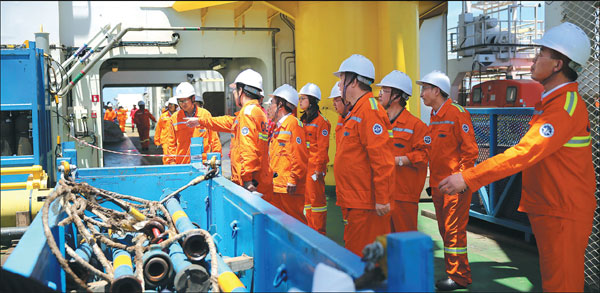 Chinese technicians check their combustible ice mining equipment during an on-the-spot operation in Shenhu Area in the South China Sea, 320 kilometers southeast of Zhuhai, Guangdong province. Guo Junfeng / China Daily
According to Li Jinfa, deputy director of the China Geological Survey, the South China Sea has an estimated 80 billion metric tons of oil equivalent gas hydrate reserves.
In all, there are 100 billion metric tons in the Qinghai-Tibet Plateau and in the South China and East China seas.
Combustible ice is formed at low temperatures and high pressure in permafrost under the sea. One cubic meter of the hydrate can release about 160 cubic meters of gas, which would emit only half the amount of carbon dioxide produced by oil or coal.
No country has been able to produce it commercially due to tough conditions and pollution concerns.
"With ample experience accumulated, China has become the frontrunner in gas hydrate mining technology," Lu says.
China completed its first test exploration in the South China Sea, which lasted for 60 days, on July 9. Total output exceeded 300,000 cu m, with daily output of about 5,000 cu m.
According to Lu, a longer, more productive trial is possible by 2020 in the South China Sea.
Beginning on May 10, a trial was carried out in waters 320 kilometers southeast of the Pearl River estuary. It achieved better-than-expected results, according to the China Geological Survey Bureau of the Ministry of Land and Resources.
The exploration collected 6.47 million sets of experimental data and set world records in both the duration of the experiment and total amount of gas extracted, said the bureau.
Jin Qinghuan, an academician with the Chinese Academy of Engineering, says China will complete the initial preparatory work for commercial production by 2020 and begin commercial production by 2030.
Successful trials have given China an edge in mining in sand silt seabed, he says.
Japan made headway in 2013, but the large amount of sand that entered the production wells halted its progress. The United States has been researching the clean fuel for years but reportedly has been hampered by technological barriers.
Lu says solid research and development and breakthroughs are needed to increase output from the next trial, to make combustible ice lucrative. Safety issues, production sustainability, environmental impact and political concerns are key factors.
China is eager to replace conventional energy, including coal, quickly with clean energy sources, to optimize the energy structure and relieve problems caused by energy shortages.
According to Han Xiaoping, chief information officer of China Energy Net Consulting, combustible ice has great potential and could well be China's next big opportunity in energy.
"The total volume of organic carbon in the world's combustible ice is twice that of all other known energy sources combined, including coal, oil and natural gas," he says.
Contact the writers at zhengxin@chinadaily.com.cn