Vote shows Kenya is ripe for investment
Cooperation with China promises great benefits for the people and economies of both countries
Elections, in a democratic society, give the people new hope and give those elected a mandate to govern legitimately. A democratic government is guided by the grand aggregate average of the wishes of society, and that is the reason why leaders have to sell their agendas by explaining their manifestos to the electorate. Kenya has been holding elections to choose its leaders since independence in 1963.
The promulgation of the 2010 Constitution provided an expanded space for the growth of democracy, through acknowledgement of basic human rights and freedoms and a standard of integrity for its leaders. Therefore, it is expected that the total application of the provisions of the Constitution will, through time, result in rapid economic development.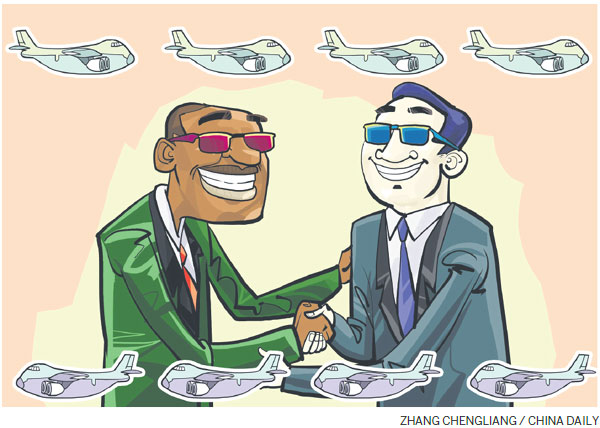 Globalization provides Kenya with opportunities for partnerships with other countries for the mutual benefit of their people. China is one of the countries whose cooperation with Kenya has provided benefits within a very short period of time. It is no secret that contracts awarded to Chinese companies have been carried out on schedule, and even in some cases projects have been completed ahead of schedule. This has resulted in Kenya being able to enjoy the projects' benefits and opportunities without extra costs normally associated with contract extensions.
Major projects undertaken by Chinese contractors include the Thika-Nairobi Super Highway, the standard gauge railway and many others.
In the past, Kenya has experienced high costs in doing business because of inefficiencies in existing infrastructure facilities such as roads, power and telecommunications. Today most of these inefficiencies have gone, thanks to the investment in infrastructure mostly financed by the Chinese government and executed by Chinese companies.
Since Vision 2030 became the major policy blueprint to guide economic planning and investment in Kenya by both public and private entities, the economy has grown on average by 6 percent annually, almost doubling GDP in 10 years. Increased cooperation with China, following past performance, may result in Kenya achieving the aim of Vision 2030, namely becoming a middle-income country by 2030. If Kenya achieves a sustained annual GDP growth of 10 percent in the next 13 years, by 2030 it will attain such status, with a minimum per capita income of $3,000.
However, for this to be achieved a number of things must occur. Hence, the need for increased cooperation between Kenya and China.
The huge potential existing in the key sectors outlined in Vision 2030 must be fully exploited. Kenya, being a low-income country, may not be able to harness adequate and sufficient resources to undertake the huge investment required to grow these sectors. Hence, countries like China need to take advantage and invest heavily in Kenya's agriculture, manufacturing, mining, IT, wholesale and retail marketing, the financial sector and the health and education sectors. To exploit this potential, heavy investment presents huge opportunities to build the required foundation for faster economic growth, such as water, power, fiber optic connections, education and technology.
In agriculture, together with the need for increased food production, value addition in agricultural materials such as tea, coffee, horticulture and animal products is imperative. These will enhance and stabilize farmers' incomes, create employment and increase Kenya's export capacity. These aims can easily be achieved through harnessing water for irrigation, introducing better seeds, control of plant and animal disease, research and development of better technologies and new products.
The manufacturing sector needs to be expanded to widen the product range to include consumer goods, processed industrial materials, pharmaceuticals and chemicals, electrical appliances, electronics, motor vehicles, tractors and industrial equipment. The rapidly growing real estate, building and construction sectors require the production of building and construction materials locally. Since China has long experience and technology in these sectors, Chinese companies are welcome to invest in Kenya to fill the existing production gaps.
The biggest problem facing Kenya and other African countries is youth unemployment, which in some areas is above 50 percent. This is unsustainable. It is a fact that China's economy in some sectors is now gradually becoming less competitive due to rising labor costs. Therefore, relocation of some of these industries to Kenya could ease youth unemployment while enabling Chinese manufacturers to remain competitive and hold on to existing markets. This will result in mutual benefit for Kenya and China.
In conclusion, the recent peaceful election is evidence that Kenya remains one of the best locations for investment and business in Africa. Chinese investors need to focus their investment on Kenya to exploit the existing market opportunities the country has developed over the years. The return on investment in Kenya is comparable to the best of the world, averaging 30 percent and above.
Kenya is located on the East African coast next to the Indian Ocean, and its neighbors are Tanzania, Uganda, Ethiopia, South Sudan and Somalia. Its population is 45 million. It is a member of the East Africa Community, comprising five countries - the others being Tanzania, Uganda, Rwanda and Burundi - with a combined population estimated at 150 million.
The author is general manager for investor services of the Kenya Investment Authority. The views do not necessarily reflect those of China Daily.