African cities face threat of landslides like Sierra Leone
FREETOWN - Natural and human factors made Sierra Leone's capital vulnerable to a landslide that killed more than 400 people this week: Heavy rain, deforested land and communities forced by overcrowding to live on steep hillsides.
Those vulnerabilities are mirrored in villages and cities across West and Central Africa that face a worsening threat from landslides, researchers say.
Hundreds are also missing after the side of Mount Sugar Loaf collapsed near Freetown on Monday in one of the worst flooding-related disasters in Africa in years. On Thursday, another landslide in a fishing village in eastern Democratic Republic of Congo killed at least 40.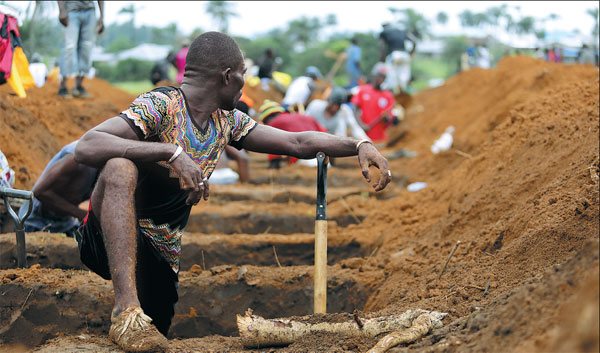 A worker is digging graves at a cemetery in Waterloo, Sierra Leone, on Thursday. Afolabi Sotunde / Reuters
More than 4,000 people have died in similar incidents over the past 10 years and millions of dollars of resources are lost because of them each year in Africa, according to Ogbonnaya Igwe, a senior lecturer at the University of Nigeria, who studies landslides.
"Triggered by intense rainfall, changes in water level and anthropogenic activities, it is very difficult ... to overestimate their threat to public safety and the environment," Igwe said.
Landslides generally happen after periods of heavy rain, saturating or liquefying soil and causing slippage. They are more likely to occur if soil is laid bare by deforestation or urban planning.
In Sierra Leone, large-scale burials have begun as an estimated 600 people remain missing. People continue to search through tons of mud and debris amid the remains of mangled buildings.
Further threat
The government has warned residents to evacuate a mountainside where a large crack has opened. Rainfall remains in the forecast for the coming days, slowing recovery efforts and bringing the threat of further mudslides.
Thousands of people have lost their homes. Some critics accuse the government of not learning from past disasters in a city where many poor areas are near sea level and lack good drainage. The capital is also plagued by unregulated construction on its hillsides.
The government has hired 600 gravediggers for burials in a cemetery that holds victims of the 2014-15 Ebola outbreak that killed thousands in the country.
President Ernest Bai Koroma joined mourners for burials on Thursday. Many people have been unable to find their loved ones as many victims were too mangled and decomposed to be identified, but the government has vowed to hold respectful burials for all.
"The water took away my mother and sister and they have buried them today. That's why we are here, to mourn and go back home," said one survivor, Zainab Kargbo.
Reuters - AP