Financial services company has ambitious plans after IPO
Before Lin Jianxin got involved in finance, he was in the textile industry. When his business was expanding, many banks came to him directly, offering different loans to his company.
"As I talked to bankers and SME owners, I realize there were asymmetric information problems," said Lin, who is now the CEO of China Internet Nationwide Financial Services Inc (CIFS), which had its initial public offering in the US last week. "Thus, we see opportunities in the market to offer feasible solutions for the capital market financing of SMEs."
CIFS might be one of the fastest-growing financial companies in China. Two years after the company was established in Beijing in September 2014, its revenue reached almost $15.8 million at the end of 2016.
A provider of financial services to small-and medium-size companies (SMEs) in China, CIFS' shares began trading on Aug 8 on the Nasdaq Global Market under the symbol CIFS.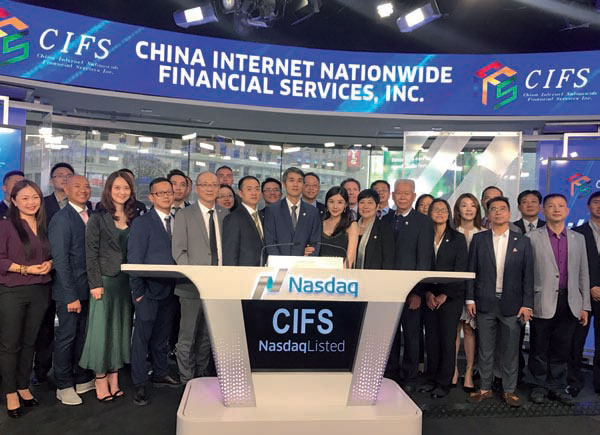 Lin Jianxin (center), the CEO of China Internet Nationwide Financial Services Inc rang the Nasdaq closing bell in celebration of the company's recent initial public offering (IPO) in Times Square on August 15, 2017.
Shares closed at $12.89 on Thursday, almost up 30 percent above their initial public offering (IPO) price of $10.
"Both our revenue and net income doubled in 2016," Lin said at a Nasdaq closing bell ceremony in Times Square on Tuesday. "The IPO is a milestone for our company, and we will continue to grow our business and deliver returns to our investors in the future."
Lin said the reason for going public in the US is twofold: "On the one hand, we want to enter the US capital market and learn more from other US companies' business models and experiences. On the other hand, we are also trying to raise capital for our clients in China in the US."
"We look forward to CIFS' continued growth in their financial services business across China," Dan McClory, head of China and equity capital markets at Irvine, California-based Boustead Securities, which underwrote the IPO, said in a press release.
Lin said "SMEs are widely ignored and vastly underserved in China, but they play a significant role in China's economic development. Many SMEs in China, including businesses with excellent credit and a solid business history, have difficulty in qualifying for their loans."
The company's businesses are focused on providing financial services and offering Chinese SMEs commercial payment advisory services, international corporate financing consulting services and intermediary bank loan advisory services.
"We assist the SMEs to improve their payment capacity throughout the production process and business activities," Lin said.
Although the company has been in business for only about three years, Lin is confident of its competitiveness and reputation.
"Our team has many experienced financial advisers who have been serving SMEs for many years," he said. "And we have a network of successful relationships, both within the banking system in China and with SMEs."
In 2016, CIFS arranged $1.47 billion in small business funding for 29 companies throughout China.
"In the US, we will keep looking at capital market services, particularly to Chinese SMEs seeking to set foot into the US capital markets," Lin said.
"Our manifesto is to be innovative," he said. "The financial services industry has seen drastic technology-led changes over the past decade, so our goal is to better integrate technology and the internet to our comprehensive financial service platform through innovation and creation."
ruinanzhang@chinadailyusa.com