A bridge between foreigners and online shopping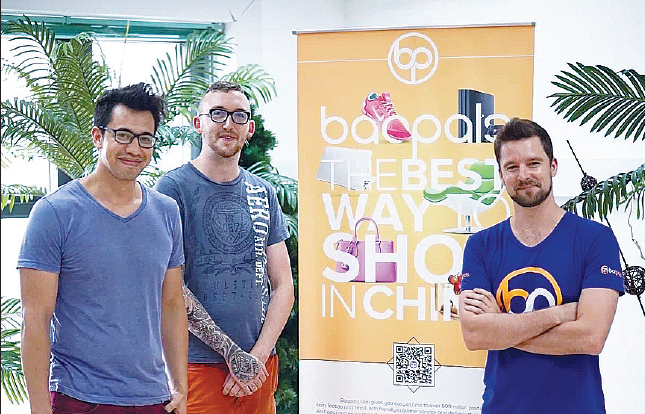 The Baopals Trio: Charlie Erickson, Tyler McNew and Jay Thornhill (from left to right) founded Baopals to help foreigners shop online. PROVIDED TO CHINA DAILY
Frustrated by the difficulties faced in buying items off Taobao and Tmall, three Americans set out to create Baopals, a platform that acts as a middleman between fellow foreigners and these e-commerce sites.
"We really wanted to shop on Taobao and Tmall because we knew we could buy stuff at really competitive prices," said Charlie Erickson, one of the co-founders. "But we were unable to do so because we couldn't read Chinese and hence needed help on almost every aspect, including searching for a product, making payments and tracking the deliveries.
"That's when we came up with the idea of creating an English website to help other foreigners."
On the day of its launch on March 1, 2016, Baopals received 12 orders of 22 products which totaled about 1,360 yuan ($202) in sales. Today, 16 months since it was established, 115,000 orders with a gross merchandise value of 29 million yuan have been placed on the site. Baopals currently has around 14,850 registered users and a WeChat following of 16,000. The company said most of their users are foreigners.
Baopals' first office was the 80-square-meter apartment that the trio lived in. They now work in a 500-square-meter office space and have a team of nearly 30 people.
The growth of the startup has even caught the eyes of Alibaba, the parent company of Taobao and Tmall. Co-founder Jay Thornhill said that he and his partners have been invited to the headquarters of the e-commerce giant, though he was not able to share more details.
Thornhill is in charge of product development while Erickson focuses on selecting products from Taobao and Tmall to feature on Baopals. The third co-founder, Tyler McNew, does website design and data management.
Users can shop on Baopals via their website or WeChat, both of which contain details such as product information and customer reviews from the original site that have been translated into English.
When users buy a product on Baopals, they are purchasing it directly from the Taobao or Tmall vendors. Baopals charges a 5 percent service fee per order and an additional 8 yuan for each item type. Thornhill said they are looking at lowering the additional fee to just 2 yuan per item type.
Baopals also helps to translate the English addresses provided by foreigners into Chinese to facilitate delivery. The company also manages delivery, exchange and refunds for their users.
Thornhill explained that the main problem faced by many foreigners when shopping online in China is not always the language barrier but the payment methods. He pointed out that many international credit cards cannot be used on Alibaba's platforms because some foreign banks, such as Chase, might deem the transaction as unsecure and cancel the payment process. Because of this, Baopals teaches users how to use Alipay, UnionPay and WeChat Pay for their transactions.
The website now has 18 product categories featured on its main page with the most popular being women's clothing, household essentials and electronics. According to Baopals, the top keyword searches on its site are "dress", "Xiaomi", "bicycle", "laptop" and "T-shirt". The founders also said they are planning to expand the number of categories on the main page to 50 in the near future.
Erickson and Thornihill said that the goal of Baopals is not just to make shopping online in China easier for foreigners, but to be a vibrant community for exchange.
"A problem with Chinese products is that foreigners are skeptical of the quality. However, once a product is recommended by a foreigner's friends or other foreigners, people are more likely to buy it. The core of this community is to establish trust," said Thornhill.
He Qi in Shanghai contributed to this story.
heqi@chinadaily.com.cn