Two dead in German nightclub shooting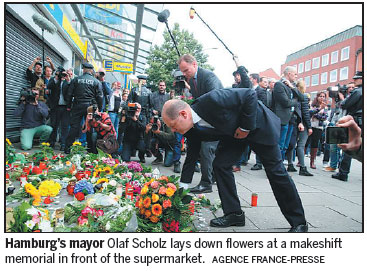 BERLIN - A gunman opened fire at a packed nightclub in southern Germany early on Sunday, killing one and wounding four before being shot by police, authorities said, ruling out a terror attack.
The 34-year-old man, identified as an Iraqi national, "was critically injured in a shootout with police officers as he left the disco, and later succumbed to his wounds in hospital," police said in a statement.
"We're not assuming that this is an act of terrorist violence," said police spokesman Fritz Bezikofer.
"The events in the disco and all the links are somewhat clearer and they actually rule out a terror background," he said, adding that the gunman was not an asylum-seeker and has been living in Germany for some time.
Officers began receiving emergency calls from terrified clubbers at around 4:30 am as the man began shooting in the nightclub heaving with "several hundred" people, said police.
One person was killed on the spot and three others seriously wounded in the club called "Grey", located in an industrial zone in Constance, a city on the banks of the eponymous lake near the Swiss border.
Shortly after the gunman left the building, he was shot by police. One officer was also injured in the exchange of fire.
Terrified nightclubbers had either fled the building or found a place to hide, police said, adding that the danger was now over.
Helicopters were circling overhead and special forces were also deployed to secure the site.
The shooting came just two days after Germany was shaken by a knife attack in the northern city of Hamburg.
A 26-year-old Palestinian had killed one and injured six in an assault at a supermarket.
He was a known Islamist with psychological problems, and investigators say his motives remain unclear.
Agence France-presse