Shenzhen startup has AI dreams of going truly global
When Matt Scott arrived in Beijing to work as an engineer at Microsoft Research in 2006, he never thought he would still be in China 11 years later.
But now the 35-year-old from New York is the co-founder of an artificial intelligence startup in one of China's innovatioin hubs in Shenzhen, Guangdong province.
"Being in China is really important when it comes to AI," he said. "If you look at the numbers, such as publications on topics like deep learning, it's China that is leading the way."
Innovation is in Scott's DNA and fueled his desire to set up Malong Technologies, which specializes in AI-based visual product recognition technology.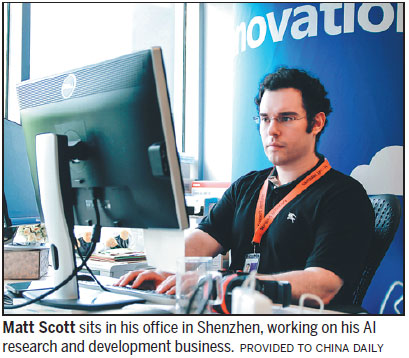 Product AI, which was developed by his company, enables online customers to find specialized products instantly from a photograph.
"The problem we are trying to solve is to build a technology to enable a computer to see products just like a person does, and make that technology accessible for companies," Scott, who is also chief technology officer, explained.
To illustrate that, fashion designers can now order fabric patterns online quickly instead of having to describe them or search endlessly for the right product.
Uliaobao.com, a textile e-commerce platform, has Product AI embedded, allowing clients to find patterns they want just by taking a picture and uploading it to the website.
This technology has been picked up by 100 companies in a range of industries, including fashion, furniture design, cars, textile and wine with 100 million customers.
For Scott, it has been quite a journey since starting up Malong Technologies in 2014.
Before that he worked for eight years at Microsoft Research, where he met his Chinese partner Huang Dinglong.
They both believed that AI would be the next big thing, so they rolled out a business.
So far, the move has paid off as the company now employees 59 staff and finished its A-round funding a year ago, raising 62 million yuan ($9.2 million) from investors.
Financial data is scarce, but Scott stressed that the company has "excellent revenue and cash flows". Still, he did not want to report the exact numbers just yet.
"China is fast moving," he said. "It is an innovative place. And when you are making an innovative company, you want to be part of an innovative environment. It's like an ecosystem.
"In this field of AI, data is, for example, one of the key things," he added. "(In China,) you can get data quicker, (you can get) more people, more organizations and more businesses."
There are other reasons, of course for setting up in Shenzhen. This boom town for tech startups also has a great deal of traditional industries, which are ideal for artificial intelligence technology.
"We want to transform traditional industries, so they are more efficient," Scott said.
Already Malong Technologies has started working with Chinatesta Textile Testing & Certification Services to upgrade its "testing process".
AI technology will help automate the system and speed up the process.
In the near future, artificial intelligence will revolutionize industry.
Figures released by consultancy iResearch in Beijing showed that the global AI market is expected to top 119 billion yuan by 2020. This represents a 19.7 percent annual growth rate.
China's AI sector will be worth 9.1 billion yuan by 2020 and it will rise by more than 50 percent year-on-year.
As for Scott and Malong Technologies, the prospects are looking good.
He became the first expat entrepreneur to win a Shenzhen Yantian district award for his work on AI and his business is booming.
"The fact that I am in China is not a problem, but actually a benefit because of the talent here," he said. "I am focusing on the customer and the product.
"The biggest challenge I face is to build a great product," he added, as well as finding the right "product market fit".
Scott also believes artificial intelligence technology will change the world and he is determined to ride this wave of discovery. "We believe we can become an AI giant in a totally new type of sector," he said.
"AI can become a world-changing phenomenon and we want to be a leading company not just in China, but on the world stage," Scott added.
"Our vision is to transform traditional industries," he said.
sally@chinadailyhk.com