Planting the seeds for a green future
M-Grass has been a pathfinder for businesses in North China's Inner Mongolia autonomous region
Editor's Note: This year marks the 70th anniversary of the establishment of the Inner Mongolia autonomous region. In a birthday tribute, China Daily takes a far-reaching look at the region's industries and how they have helped generate growth.
Under sweltering summer temperatures of 40 C, a highly-skilled team from M-Grass toil on ecology projects in the glitzy United Arab Emirates city of Dubai.
The Chinese environmental protection company was brought in to work on public parks, desert areas and villa developments because of its expertise.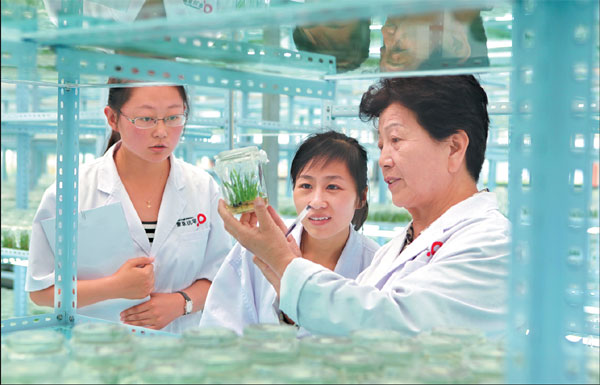 Technicians observe grass growth at a M-Grass' lab in Hohhot, North China's Inner Mongolia autonomous region. Provided to China Daily
Officially known as the M-Grass Ecology & Environment (Group) Co Ltd, the firm is affectionately called just M-Grass and has been a pathfinder for businesses in North China's Inner Mongolia autonomous region.
"We have operated in more than a dozen provinces in China as well as in markets such as Dubai in the UAE," said Zheng Nan, an information officer at M-Grass. "We are also looking at opportunities in Singapore and Russia."
The group has a big reputation, and is the only listed company in China that specializes in ecological restoration, seed technology and state-of-the-art grass cultivation operation.
Founded in 2001, M-Grass is based in Hohhot, capital of Inner Mongolia, and its core business is described as "ecological environment engineering", in a company profile on Reuters.
With more than 1,500 employees, the group posted revenue of $422 million last year, an increase of 61.78 per cent compared to 2015.
In the first quarter of 2017, revenue was $45 million, a 160 per cent increase compared to the same period last year.
"In 2016, the company agreed a 10 billion yuan ($1.47 billion) cooperation agreement with Baotou, the largest industrial city in Inner Mongolia to reduce the environmental impact of buildings and improve the amount of green space available in the city," Xinhua reported. It is this core business that has made M-Grass a success story. For years, local governments had battled to find ways to counter desertification.
"China has vast grasslands along its border," said Yu Guangjun, director of the institute of economics at the Inner Mongolia Academy of Social Sciences. "These have been vital to curb the trend."
During the past decade, M-Grass' team has traveled across the regions to collect more than 8,000 different grass seeds and more than 11,000 soil samples.
"I always believed that the environment was smart enough to help us," said Wang Zhaoming, the group's chairman. "Native plants are the best and safest solutions for ecological rehabilitation.
"We will continue to do research on different types of grass," he added. "This will play a big role in environmental protection and help boost the economy."
By the end of last year, M-Grass had set up an intelligent search platform, integrating data on grass, soil, water, meteorology, livestock and microbial.
"In a matter of seconds, you can find all the information you need once you put in longitude and latitude figures," said Gao Jungang, chief executive officer of the group. "And we keep improving and updating the platform across the regions."
Research and development programs are crucial to M-Grass, as well as central government backing.
Since 2000, Beijing has invested 11.67 billion yuan in ecological projects in Inner Mongolia, Gao Xilin, forestry department director of Inner Mongolia, pointed out.
Public private partnerships, or PPP, have also helped channel funding into environmental protection programs.
Last year, M-Grass signed a 20 billion yuan contract with Hohhot's municipal government for major ecological restoration projects. This contributed to about 92 per cent of the group's revenue in 2016.
"M-Grass has been great for the region," said Li Jiheng, Party chief of CPC Inner Mongolia. "The ecological restoration market is very big. I just hope the company retains its competitiveness by providing excellent services."
Zou Yumeng contributed to this story.
Contact the writer at wuyong@chinadaily.com.cn