French FM in bid to resolve Qatar crisis
RIYADH, Saudi Arabia - French Foreign Minister Jean-Yves Le Drian arrived on Saturday in Jeddah, a major coastal city in Saudi Arabia, to help tackle the Qatar diplomatic crisis.
In early June, Saudi Arabia, the United Arab Emirates, Bahrain and Egypt cut ties with Qatar and moved to isolate the small, but wealthy Gulf nation, canceling air routes between their capitals and Qatar's and closing their airspace to Qatari flights.
Saudi Arabia also sealed Qatar's only land border, impacting a key source of food imports in the mostly desert nation.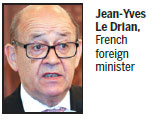 The four countries also expelled all Qatari nationals, impacting mixed-nationality families in the Gulf, students and people seeking medical treatment abroad, among others. Prior to the dispute, Qataris could travel visa-free between the Gulf countries.
"France is calling for these measures to be lifted, especially ones that affect the (Qatari) population, specifically measures that impact bi-national families that have been separated," Le Drian said.
Le Drian urged the four countries to resolve the ongoing crisis through dialogue.
After his visit to Riyadh, Le Drian will go to Kuwait and the UAE to attempt mediation.
Saudi Arabian Foreign Minister Adel bin Ahmed Al-Jubeir claimed he could provide evidence that Qatar violated the 2013 Riyadh Agreement and the 2014 Riyadh Supplementary Agreement, both of which aim to enhance cooperation between Gulf nations and avoid interference in each other's internal affairs.
He also stressed that Qatar must implement relevant anti-terrorism agreements.
The four Arab countries cut ties with Qatar on June 5, accusing it of supporting "extremism and terrorism", an allegation which Qatar has denied.
On June 23, the four Arab states issued a list of 13 demands to end the rift with Doha, including closing Al-Jazeera television and downgrading diplomatic ties with Iran. Since Qatar's response seemed unsatisfactory to them, the four have decided to maintain their sanctions against Qatar.
With Qatar holding firm to its position, a top UAE diplomat cautioned that the diplomatic standoff could be prolonged.
"We are heading toward a long estrangement," UAE Minister of State for Foreign Affairs Anwar al-Gargash wrote on Twitter.
"The reality is we are far from a political solution that changes Qatar's course. In light of that, nothing will change and we must look to a different mode in relations," he added.
Xinhua - Ap