June fiscal revenue up sharply
'Sound economic fundamentals' seen behind accelerated growth
China's fiscal revenue recorded faster year-on-year growth in June, adding to signs of structural improvement of the world's second-largest economy.
Fiscal revenue increased by 8.9 percent year-on-year to 1.7 trillion yuan ($251 billion) last month, accelerating from the 3.7 percent growth in May, according to the Finance Ministry.
In the first six months, fiscal revenue increased by 9.8 percent year-on-year to 9.43 trillion yuan.
"Sound economic fundamentals supported faster growth of fiscal revenue in the first half," said Lou Hong, director-general of the Ministry of Finance's Treasury Department.
Some indicators that achieved faster year-on-year growth contributed to higher growth of tax income, according to Lou, referring to year-on-year improvement of industrial value-added output and total retail sales.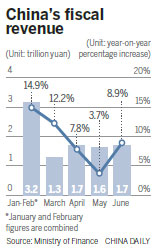 Tax collected from industries that have become new growth engines witnessed significant growth, with tax from internet services increasing by 58.9 percent year-on-year in the first six months and that from software and information technology services by 38.7 percent.
The economic recovery is expected to continue in the second half, as fiscal spending will be allocated to meet key expenditure needs to sustain the good trend, according to Wu Haijun, deputy director of the ministry's Budget Department.
Government spending in the first six months increased by 15.8 percent from a year earlier, the ministry said.
However, Lou said fiscal revenue faces downward pressure in coming months.
"Value-added tax reform and a slew of tax cut policies introduced since last year will lead to a decline in this category," he said.
Tax collected from the construction industry and the financial sector, both of which were involved in the value-added tax reform, decreased by 26.6 percent and 4.3 percent in the first half, respectively, data showed.
In the meantime, rising producer's prices that were expected to moderate in the coming quarters and cooling-down measures in the real estate sector since last year will also drag down the growth rate of fiscal revenue, according to Lou.
Slowing growth of fiscal revenue is an expected trend amid the nation's efforts to improve the tax system, because tax cut policies benefit enterprises in the long run, according to Zhang Bin, head of the global macro-economy division of the Chinese Academy of Social Sciences.
While slower growth in the future may put pressure on repayment of local government debts, there are tools to cushion the pressure, including the central government providing subsidies to local governments facing fiscal pressure, according to Zhang.
Zhang Lianqi, a financial expert whom the ministry consults, said that local government debt remains at a controllable level, but the government needs to enhance efforts to close loopholes, referring to risks hidden in public-private partnership projects and government investment platforms.
The government has expanded financing channels for local governments by introducing land revenue bonds.
The introduction of such bonds will give local governments greater borrowing capacity to finance development projects and improve transparency of debt management, according to Moody's Investors Service.
wangyanfei@chinadaily.com.cn