Trump: Unaware of son's meeting
President says he learned recently of meeting with Russian lawyer
US President Donald Trump said on Wednesday he was unaware of his son Donald Trump Jr's meeting last year with a Russian lawyer at the heart of a White House controversy, telling Reuters he learned of it only a couple of days ago.
Asked if he knew that his son was meeting with the Russian lawyer Natalia Veselnitskaya in June last year, Trump said in a White House interview: "No, that I didn't know until a couple of days ago when I heard about this."
Trump Jr eagerly agreed to meet the woman he was told was a Russian government lawyer who might have damaging information about Democratic rival Hillary Clinton as part of Moscow's official support for his father's presidential election campaign, according to emails the son released on Tuesday.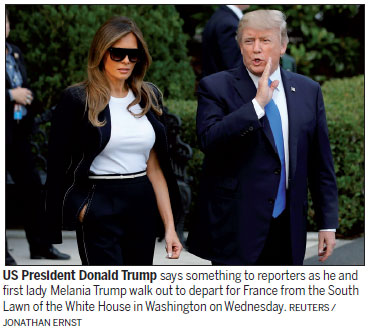 In the interview, Trump said he did not fault his son for holding the meeting. "I think many people would have held that meeting," the president said.
In Wednesday's interview, Trump also said he directly asked Russian President Vladimir Putin if he was involved in what US intelligence says was Russian meddling in the presidential campaign and that Putin had insisted he was not.
Trump said he spent the first 20 or 25 minutes of his more than two-hour meeting with Putin last Friday in Germany on the election meddling subject.
"I said, 'Did you do it?' And he said 'No, I did not. Absolutely not.' I then asked him a second time in a totally different way. He said 'absolutely not,'" Trump said.
Russian Foreign Minister Sergei Lavrov said on Wednesday in Brussels that it was preposterous that Trump's eldest son was blamed for meeting Veselnitskaya.
Hitting back against accusations of Russian meddling in the 2016 US elections, Lavrov asked to be shown "at least one fact" proving Moscow tried to interfere with the democratic process.
"I learned with surprise that a Russian lawyer, a woman, is being blamed, and Trump's son is being blamed for meeting. For me, this is wild," Lavrov told a joint news conference with his Belgian counterpart.
"Because when any person speaks to a lawyer, what problem or threat could there be? I didn't know about this; I learned about it from television."
Reuters