Tillerson in Qatar as leaks spark fresh Gulf tension
DOHA, Qatar - US Secretary of State Rex Tillerson arrived in Qatar on Tuesday for talks on the Gulf crisis as leaks of secret agreements between regional powers triggered fresh tensions.
He told reporters in Doha on Tuesday that Qatar had "reasonable" views in the month-old diplomatic row.
"I am hopeful we can make some progress to begin to bring this to a point of resolution," Tillerson said alongside his Qatari counterpart Sheikh Mohammed bin Abdulrahman al-Thani.
"I think Qatar has been quite clear in its positions, and I think those have been very reasonable," he said.
On Monday, He held talks Kuwait's ruling emir, Sheikh Sabah Al Ahmed Al Sabah.
Sheikh Sabah has been acting as a mediator between Qatar and four states lined up against it: Saudi Arabia, Bahrain, the United Arab Emirates and Egypt.
The quartet broke off relations and cut air, sea and land routes to Qatar in last month. They accuse it of supporting extremist groups something Qatar denies and meddling in their affairs.
Kuwait, the United States and the United Kingdom have called for "a rapid end" to the crisis through dialogue, the official KUNA news agency reported on Tuesday. The call was issued at a meeting held on Monday by Kuwait's Foreign Minister Sheikh Sabah Khaled al-Hamad al-Sabah with Tillerson and Britain's National Security Advisor Mark Sedwill.
They urged all parties to "contain this crisis rapidly, and to find a solution through dialogue as soon as possible".
The four Arab states sought on Monday to pile pressure on Qatar, saying the publication of a previously secret accord between Riyadh and Doha showed Qatar broke a promise not to meddle in the affairs of Gulf countries.
The text of the 2013 accord, whose existence was known but whose contents have never before been made public, was first published by CNN on Monday.
In a joint statement, Bahrain, Egypt, Saudi Arabia and the UAE said the publication of the accord, meant to settle a dispute between Qatar and its Gulf neighbors, "confirms beyond any doubt Qatar's failure to meet its commitments and its full violation of its pledges".
The four said Qatar pledged to desist from interfering in its neighbors' politics in the 2013 agreement.
Qatar has rejected the charges and said the four countries are trying to impose their own views on its foreign policies.
Doha threatened on Monday to withdraw from Gulf Cooperation Council by setting conditions for the Saudi-led bloc, state news agency MENA reported. Thani said his country would give a three-day notice to the Gulf countries to lift the "siege" imposed on Qatar and compensate it for the political and economic losses.
Reuters - Xinhua - Ap - Afp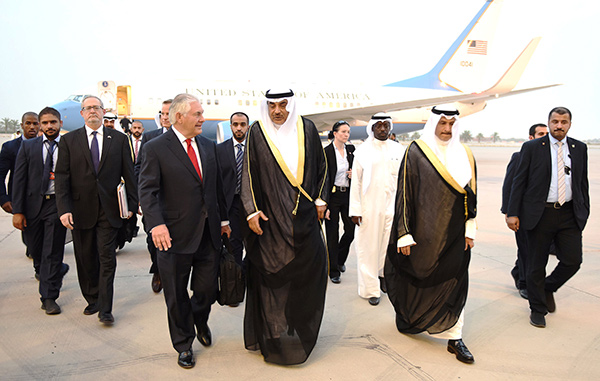 US Secretary of State Rex Tillerson is welcomed at the airport in Kuwait City, Kuwait, on Monday.Kuna Via Reuters