Ofo gears up with $700m of fresh funding
Chinese bike-sharing company Ofo Inc said on Thursday it has raised more than $700 million in a fresh round of financing to expand globally, as its faces rising competition from domestic rivals, chiefly Mobike Technology Co Ltd.
The new series E round of financing was led by Chinese e-commerce giant Alibaba Group Holding Ltd, Hony Capital and Citic Private Equity, the company said in a statement. Other backers include its former investors DST Global and ride-hailing giant Didi Chuxing.
It is the biggest round of financing in the bike-sharing industry to date, surpassing Mobike's latest over $600 million round last month. Beijing-based Ofo had reportedly sought the new funding at a valuation of about $3 billion, which will help it more than triple its yellow bikes to 20 million in 200 cities globally by the end of this year.
"We will further upgrade our service to ensure a better user experience and accelerate our global expansion strategy," Ofo founder and CEO Dai Wei said in a statement.
Key investor Alibaba said it will work closely with Ofo to further develop the emerging bike-sharing industry.
"Ofo has redefined short-distance commuting, enabling a low-carbon footprint experience and delivering value to users and society. It is the industry leader and we will support its open platform strategy," said Joe Tsai, executive vice chairman of Alibaba Group Holding Ltd.
Before the latest injection, Ofo, which has operations in more than 150 cities in five countries globally, had raised more than $650 million, claiming it had obtained an estimated valuation of around $2 billion.
Bike sharing is a craze sweeping across major cities in China, making pedal power cool again. In a move to stay ahead of the field, bike-sharing companies are seeking large amounts of funding to expand in both the domestic and overseas market.
Operating more than 6.5 million bikes, Ofo said it has over 100 million users and has supported more than 2 billion rides since its debut in 2015. Its top competitor Mobike, backed by internet giant Tencent Holdings Ltd, has placed more than 5 million bikes in over 130 cities globally, including Manchester, England, and Fukuoka in Japan.
Mobike CEO Wang Xiaofeng said in a statement last month the company would gear up its global expansion, aiming to operate in 200 cities by the end of 2017.
Wang Chenxi, analyst at internet consultancy Analysys in Beijing, said with the support of sustained funding by investors, bike-sharing companies are able to expand their fleets and offer better products and services.
"With the new funding, Ofo will accelerate its pace of global expansion in the next half of the year," she added.
Funding of Mobike Technology Co Ltd
June 16, E round of funding of more than $600 million, fund providers include Tencent Holdings Ltd, Sequoia Capital, Hillhouse Capital, TPG Capital, BOCOM International Holdings Co, ICBC International Holdings and Farallon Capital
Feb 20, D+ round of funding, fund providers include Temasek Holdings and Hillhouse Capital
Jan 23, D+ round of funding from Foxconn
Jan 4, D round of funding of $215 million, fund providers include Tencent Holdings Ltd, Warburg Pincus, TPG Capital, Ctrip.com International Ltd, Huazhu Hotels Group, Hillhouse Capital and Sequoia Capital
Funding of Ofo Inc
July 6, E round of funding of more than $700 million, fund providers include Alibaba Group Holding Ltd, Hony Capital, CITIC Private Equity, Didi Chuxing and DST Global
April 22, D+ round of funding from Ant Financial
Mar 1, D round of funding of $450 million, fund providers include DST Global, Didi Chuxing, CITIC Private Equity, Matrix Partners China, Coatue Management and Atomico
ouyangshijia@chinadaily.com.cn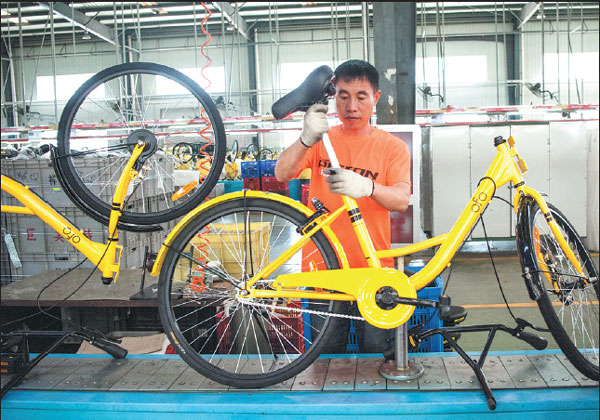 A worker assembles an Ofo bike at a plant in Tianjin.Wang Weiwei / For China Daily