Marriott funds new schools
Global hotel chain on course to raise $1.89m for charity
A major global hotel chain is on course to raise 13 million yuan ($1.89 million) to build seven primary schools in poverty-stricken regions of China.
Marriott International Inc, which is based in the United States, continued its fund-raising activities by running a charity golf tournament in Beijing last Saturday. The tournament raised 700,000 yuan.
The plan is to donate the money to the Yao Foundation, an organization founded by Chinese basketball star and former NBA player Yao Ming nine years ago.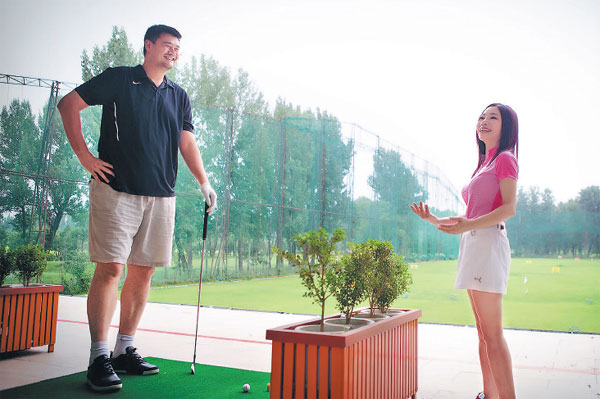 Yao Ming, founder of the Yao Foundation, took part in a charity golf tournament organized by Marriott last Saturday. Provided to China Daily
"It will then be used by the Yao Foundation to build primary schools and support their annual basketball seasons," said Pan Xiaoying, chairwoman of Marriott Worldwide Business Councils Greater China. The hotel group is expected to raise about 4 million yuan this year and will roll out a charity dinner in the fall.
"The spirit to serve our community is one of the core values of the enterprise," Pan said. "The service and contribution to communities, where we are located, can be transformed into an intangible resource."
This is the fifth year that Marriott International and the Yao Foundation have joined forces to ease the plight of poor school children in China.
By the end of 2016, the hospitality company had donated 7.5 million yuan to the project, and built three Hope Primary Schools in Southwest China's Sichuan and Guizhou provinces.
Another 4 million yuan is expected to be added to the fund, making the hotel group just 1.5 million yuan short of its 13 million yuan goal.
"These schools have provided opportunities for 510,000 students from poor backgrounds to learn basketball in the past five years," Pan said.
The Yao Foundation has received more than 100 million yuan since it was launched, with half of the donations coming from leading multinational companies.
"The foundation focuses on the improvement of physical education in rural areas of China, because we believe sports can help kids to become more healthy, positive and optimistic," Yao said.
"Hopefully, people trust the foundation when they hear the name Yao Ming, which is motivation for us to do better," he added.
The foundation has donated equipment and facilities to rural schools while volunteers are brought in to teach children to play basketball and enjoy the game.
"We plan to explore more fields in the future, such as a soccer project in East China's Anhui province," he said.
Marriott Worldwide Business Councils Greater China, which represent 268 branded and franchise hotels, will hold charity dinners in October as an annual event to raise even more funds for the Yao Foundation.
"Activities, including a charity gala and a golf tournament, have attracted more people," Yao said. "This has helped to raise funds for our project."
Marriott International has a long history in charitable work. For many years, the group provided training and meeting rooms for international medical volunteers involved in Operation Smile.
The international non-profit organization, which is based in the US, has helped provide cleft lip and palate repair surgery to children worldwide.
"As a hotel company, the meeting rooms and accommodation services have helped support those events," Pan said. "But I think what matters most is helping people."
Earlier this month, Marriott International raised 68,000 yuan for 340 disadvantaged children suffering from facial problems.
"We also do public welfare, which includes free dinners for sanitation workers, tree planting, and visits to orphanages to help people," Pan said.
chenmeiling@chinadaily.com.cn